It became pretty clear why the enchantments trail is known as one of the most beautiful trails in Washington. With dozens of alpine lakes, rocky mountain peaks, meadows and many mountain goats roaming around, it is easy to lose track of time while wandering around the core enchantments zone and admiring the beautiful nature.
After finishing the 20 mile point to point hike in a day, (though I am sure it would have come out to more than this had the tracking watch not died), I spent some time thinking about how I would recommend doing this hike, which was difficult. There are many different ways you can enjoy the enchantments, none of which are particularly easy.
Leavenworth
The closest town to both trailheads is Leavenworth, a really cute Bavarian themed town worth a visit of its own. It is roughly a 2 hour drive if you are coming from Seattle to Leavenworth.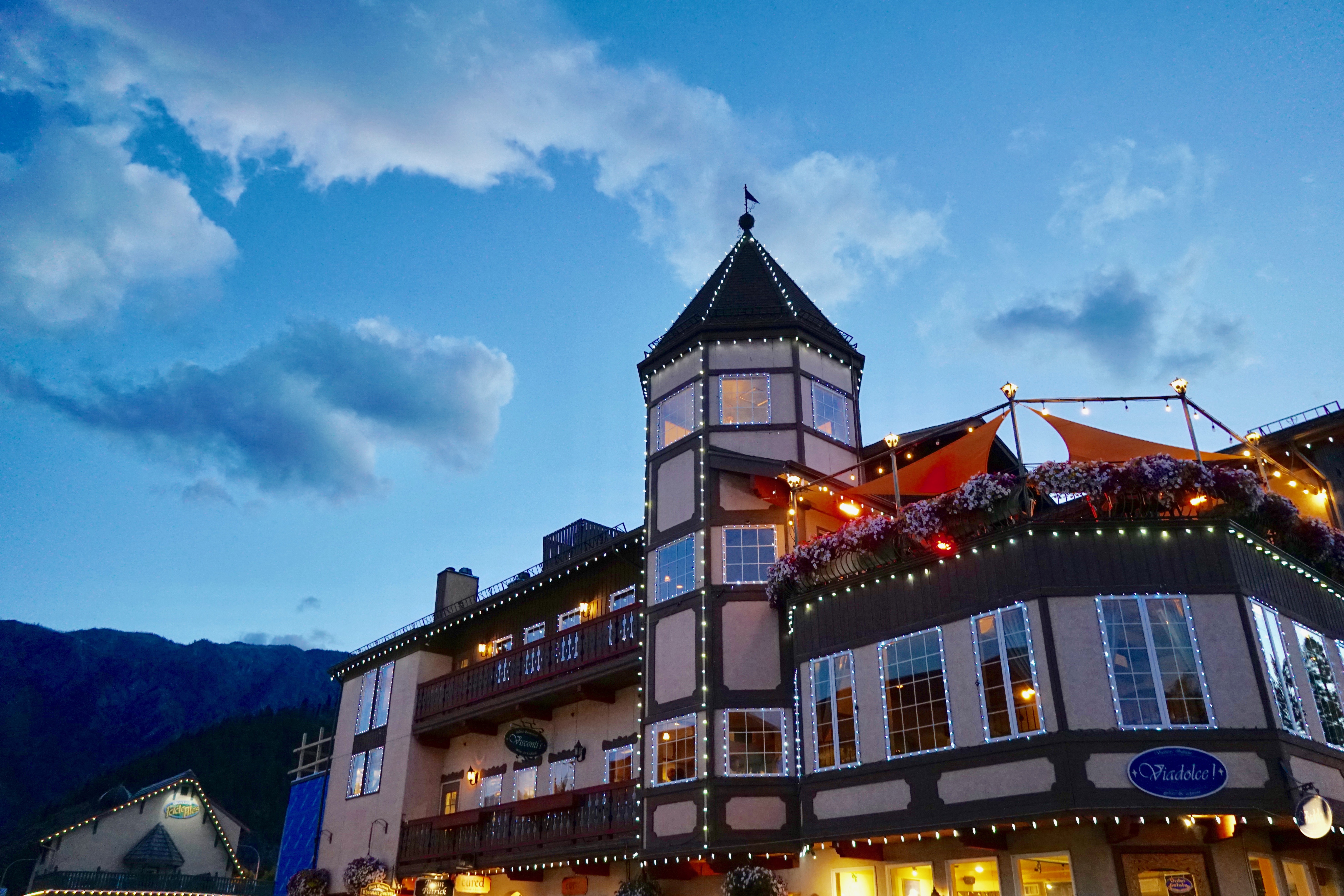 Leavenworth at night.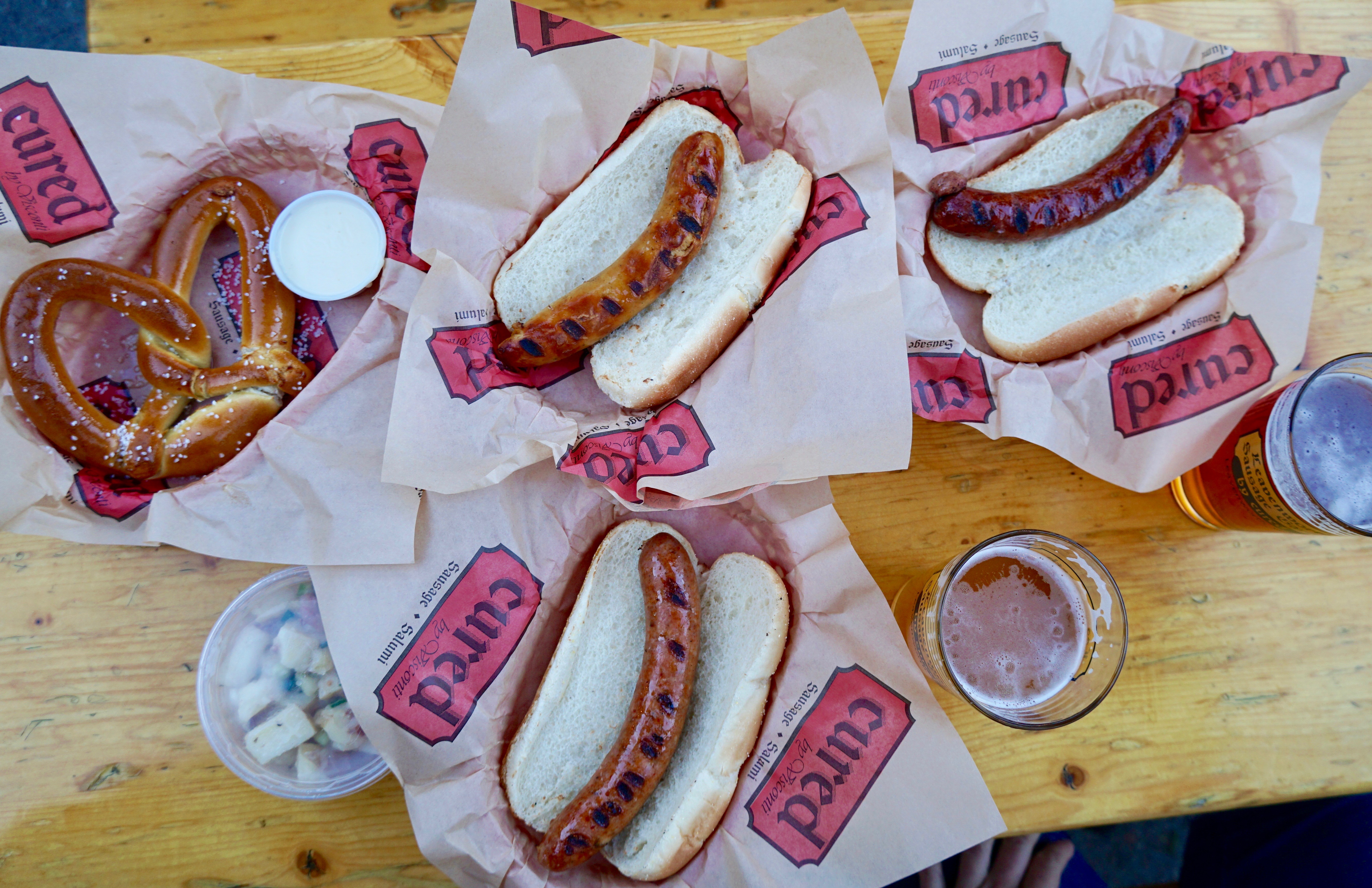 You can load up on sausage and carbs at the Leavenworth Sausage Garten before heading out on your hike.
If you plan to stay in Leavenworth for a night before or after the hike, I would recommend booking things in advance. We tried booking things last minute after finishing the hike and the entire town was booked out.
Trailheads
There are two ways of getting to the enchantments. Either via the Stuart Lake Trailhead, or the Snow Lakes Trailhead, which are about 8 miles and a half hour drive apart. If you start from Snow Lakes Trailhead, you will have a longer uphill trek (and about 2000 feet gain extra) than if you start from Stuart Lake Trailhead. If you are starting from Stuart Lake Trailhead, you will need to climb Asgard's Pass, which gains 2000 feet in less than a mile, though overall there will be less elevation gain. I would recommend starting from Stuart Lake Trailhead to cut down on some of the elevation and as a quicker route to reach the core enchantment zone. All the good information about the hike is on the Washington Trails Association site.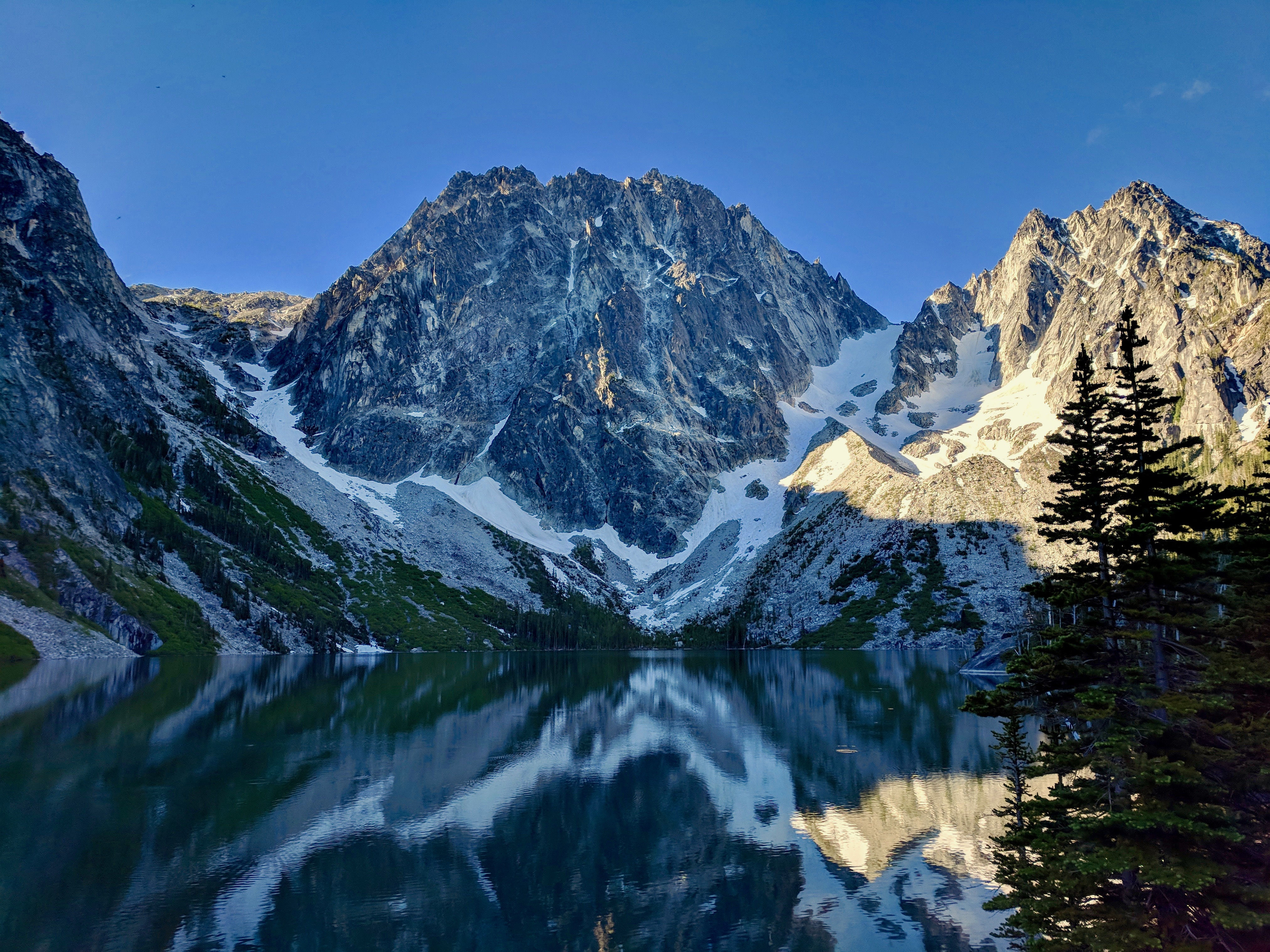 Colchuck Lake, approximately 4.5 miles in from the start of Stuart Lake Trailead. The peak in the middle is Dragontail Peak which you can hike up, and the pass to the left of Dragontail peak is Asgard Pass, which you will need to climb to reach the core enchantments zone.
Shuttles
If you want to do the full through hike from one trailhead to the other, you can park your car at the end of the trail (Snow Lakes Trailhead for example), and arrange for a shuttle to drive you from the end, to the beginning trailhead (Stuart Lake Trailhead) the morning you plan to start. If you have two cars you can leave one at each trailhead. We camped near Snow Lakes trailhead and took a 5am shuttle from Snow Lakes to Stuart Lake trailhead in the morning.
Route finding
There is an easy to follow trail until the end of Colchuck Lake as you start to climb Asgard Pass. After this point you will need to keep an eye out for cairns along the way. We got off the path in the wrong direction a few times in the core enchantments zone because the trail was fairly snow covered and at times difficult to follow.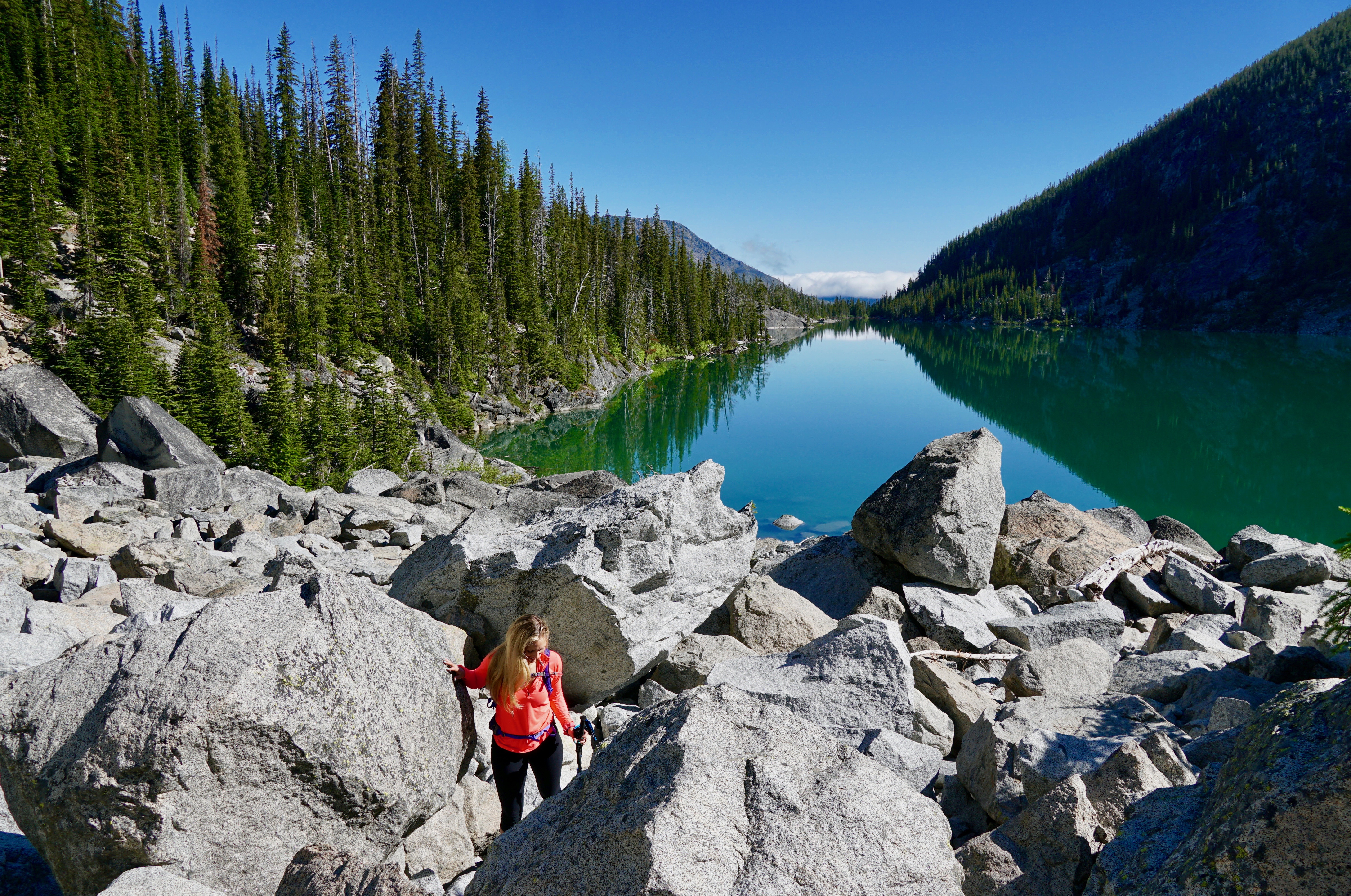 At the end of Colchuck Lake, where the trail becomes more of a scrambly route over rocks and boulders.
Camping Zones
The trail, point to point, goes through 4 different "zones", each of which you need a different (difficult to obtain) camping permit for. You can apply for permits via lottery here, and if you aren't lucky enough to get one of the permits you can try for a walk-in permit. If you don't get permits either of these ways you can always do this as a day hike, but this is an extremely long day. We spent 16 hours on the trail and the last 8 miles of the hike were what felt like some of the longest 8 miles.
Stuart Zone and Colchuck Zone
The Stuart Zone is a bit out of the way from the core enchantment zone for camping. Colchuck zone provides a great option to camp at Colchuck lake and do day hikes up into the core enchantment zone with a lighter backpack.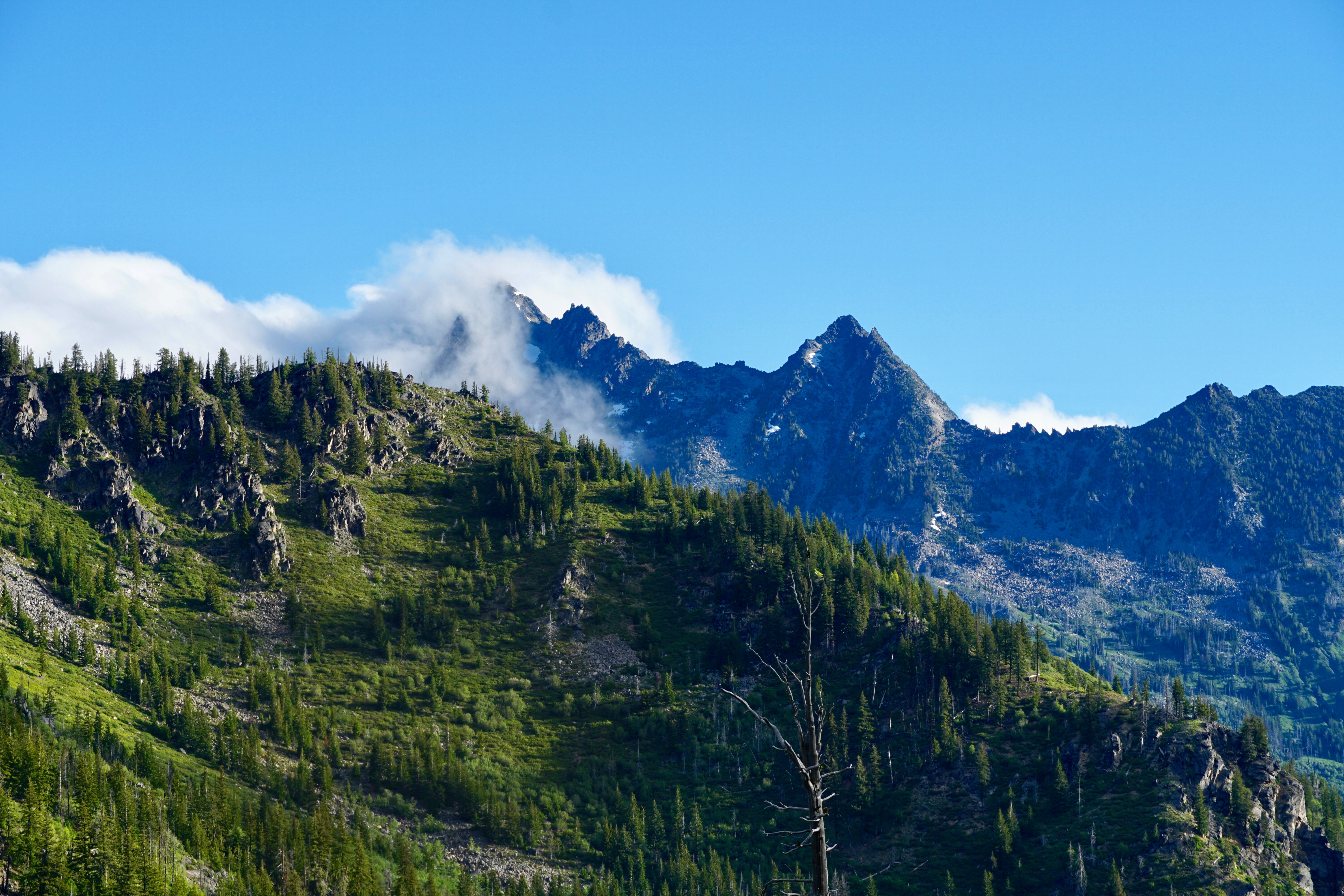 Amazing views of Colchuck Lake on the way up Asgard pass.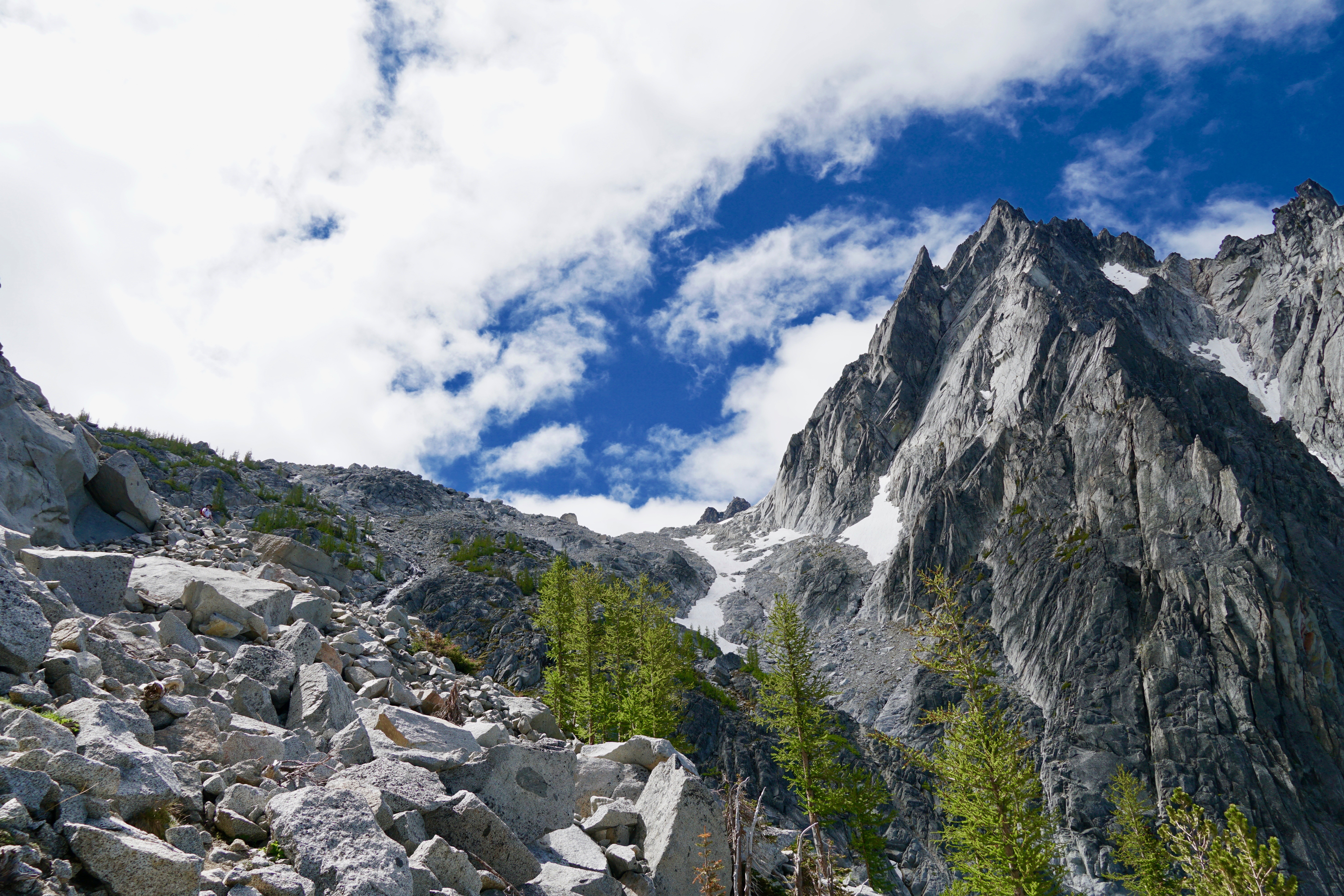 Almost at the top of Asgard Pass after a couple of hours of climbing.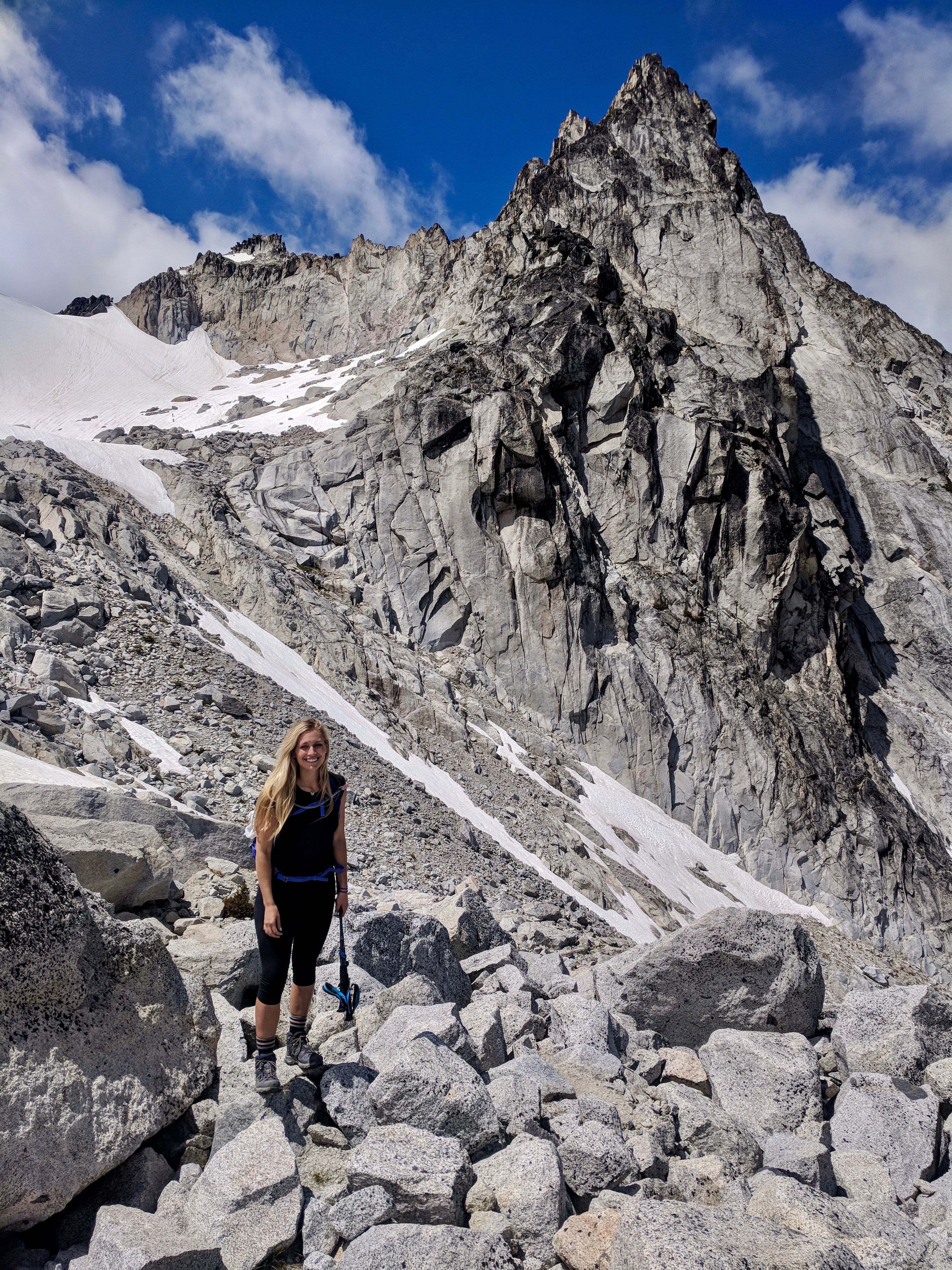 Still working my way to the top of Asgard pass with Dragontail Peak in the background.
Core Enchantment Zone
Once you've made it over Asgard pass from Colchuck lake, you are into the core enchantments zone. This is probably the best place to camp and explore all of the enchantment lakes from if you can get a permit for this zone.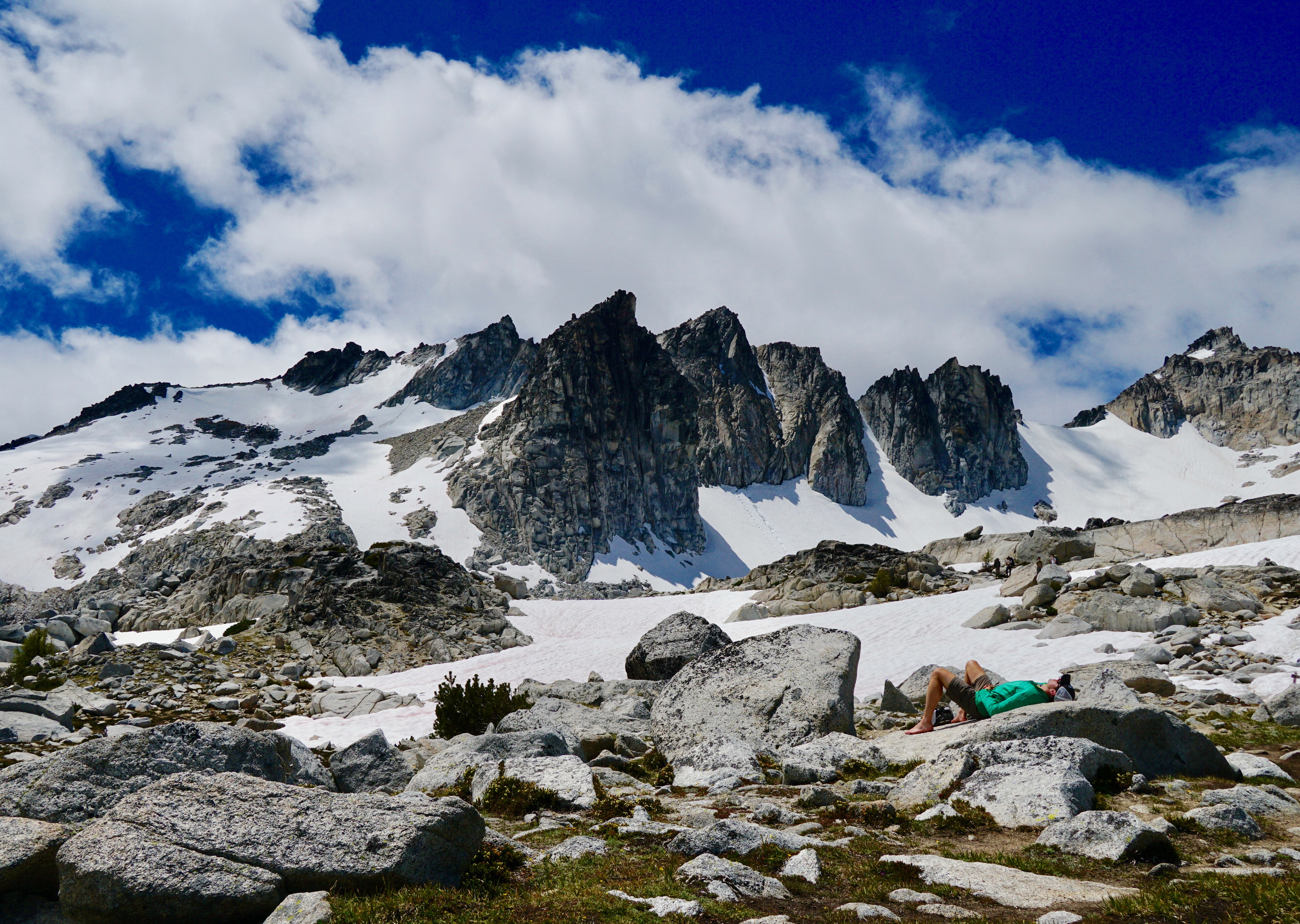 Great place for lunch and a quick nap after hours of climbing.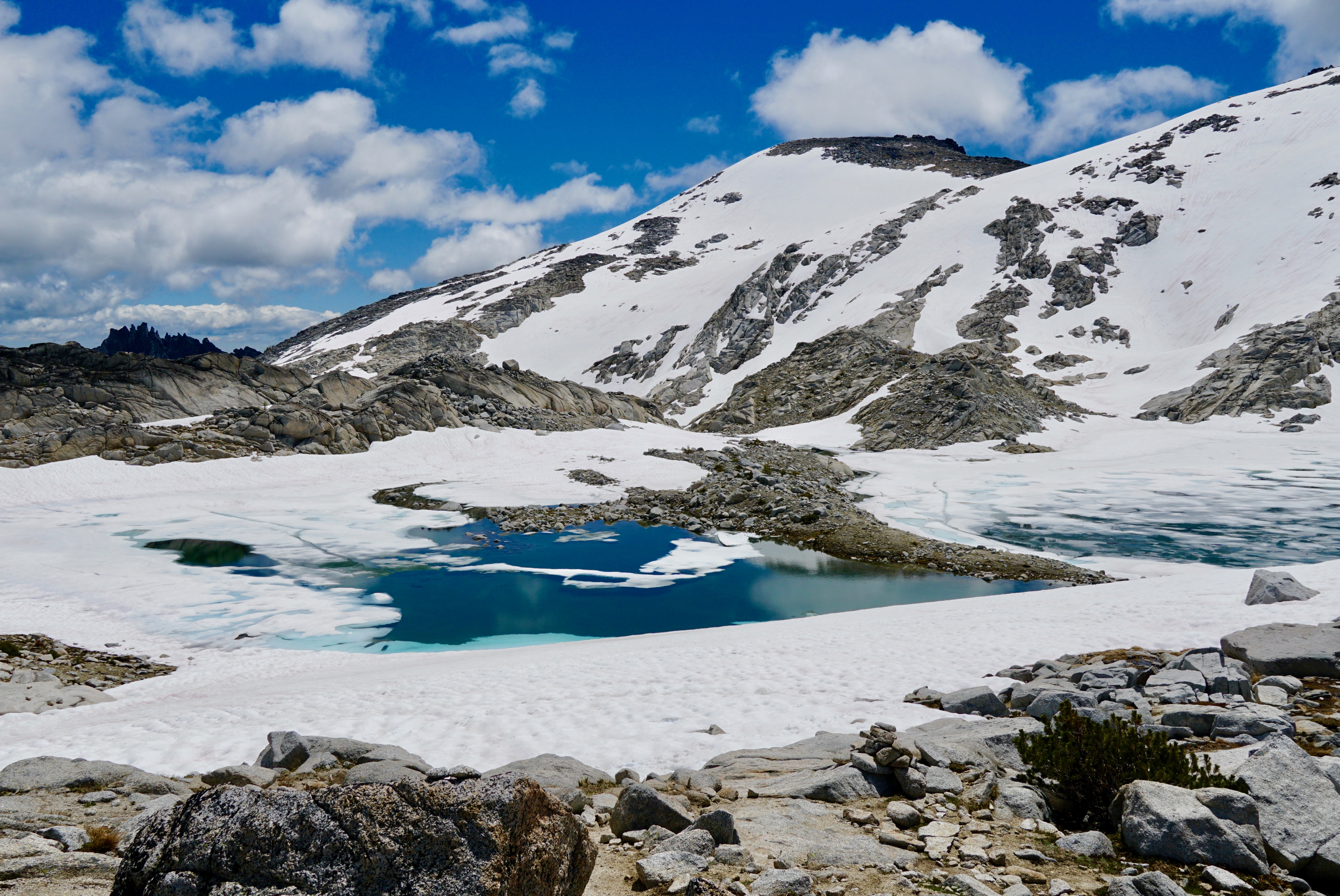 In mid June, the core enchantment zone (starting past Asgard pass until lake Viviane) was still quite snow covered. Many of the lakes were partially covered in snow, which also made it easy to lose the trail at times. There is typically snow on the trail well into July.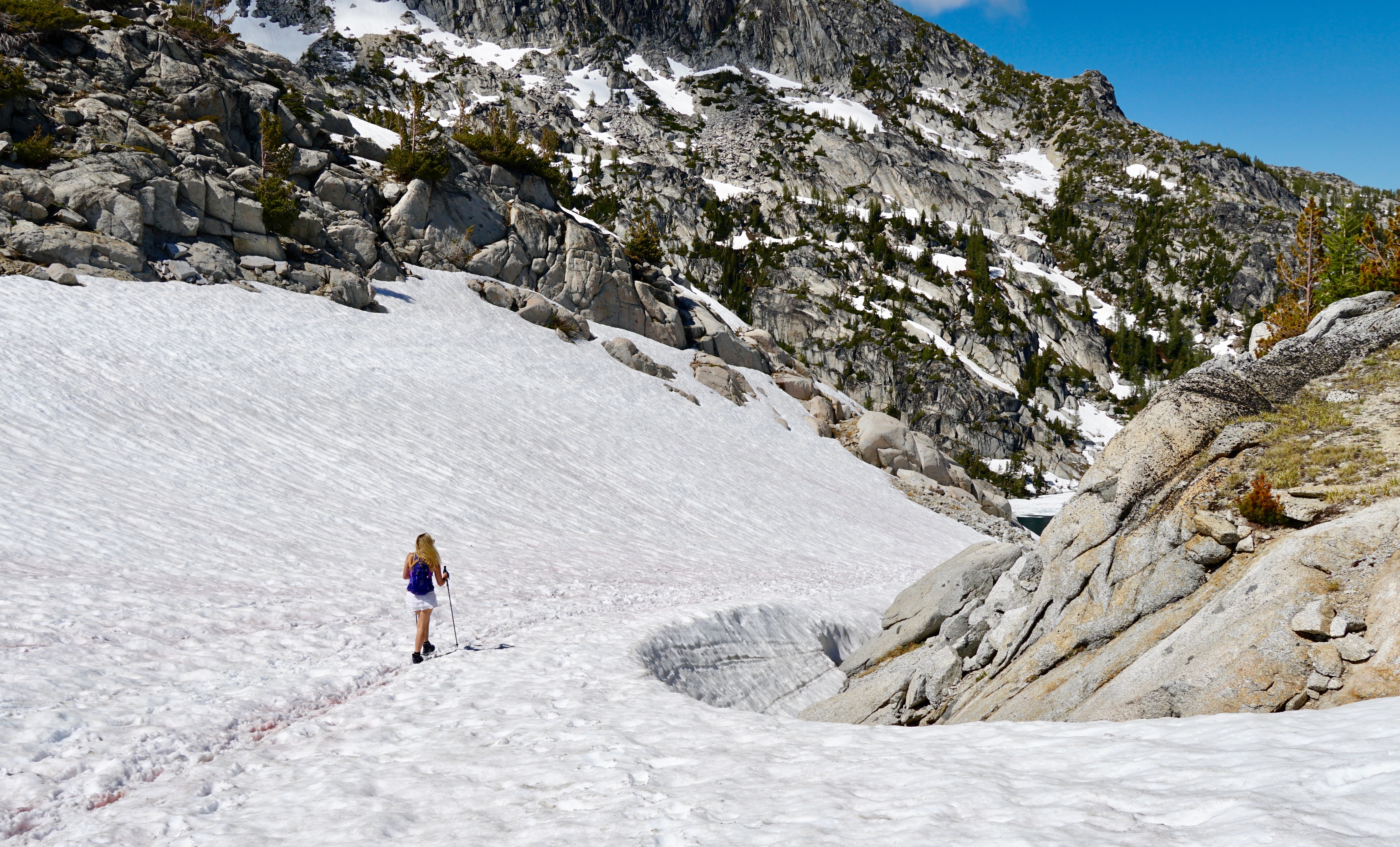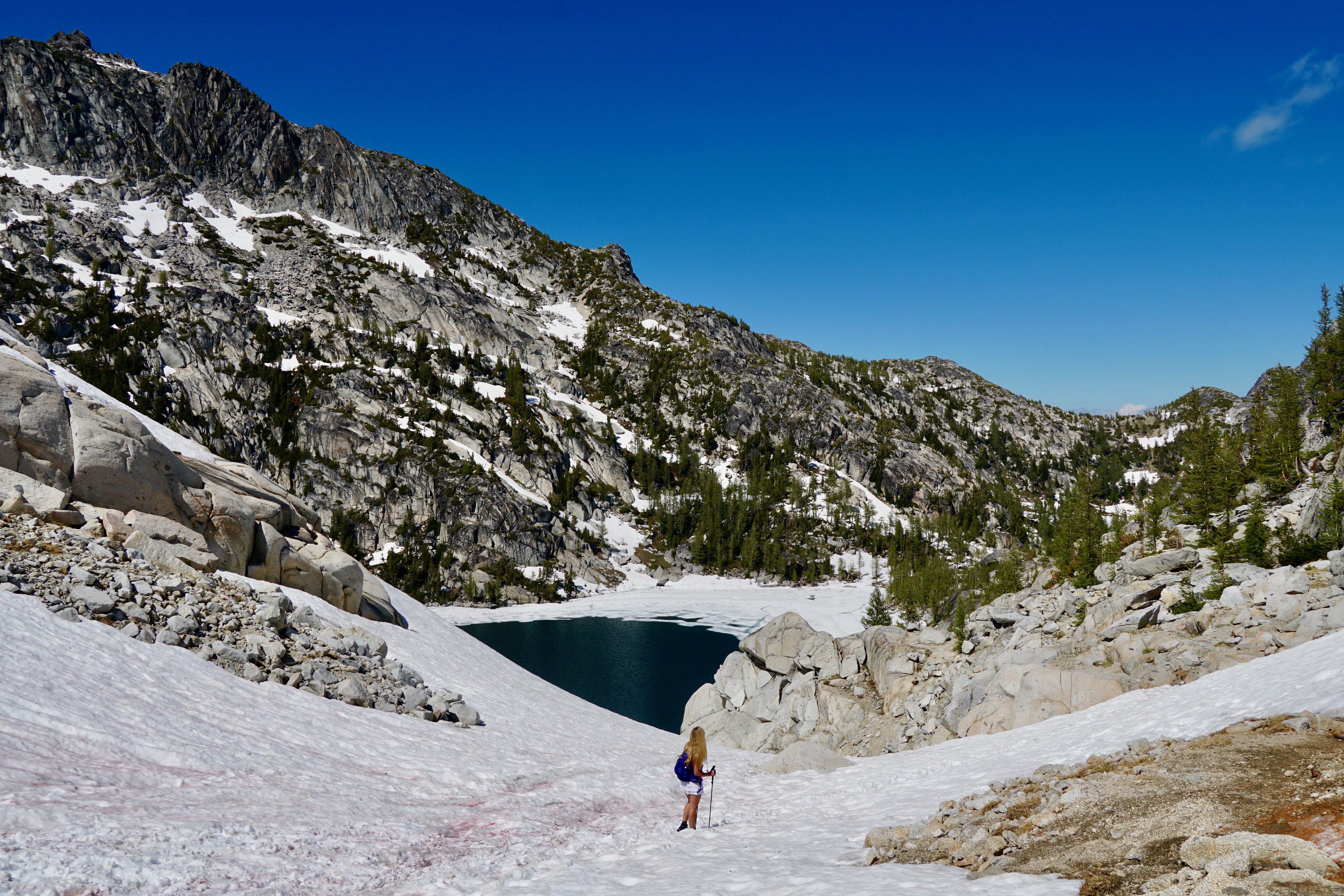 You might notice some of the pink color in the snow. Interestingly this is what's known as snow algae (or watermelon snow), a species of algae that grows and thrives in freezing waters. Neat, who knew?!
Snow Zone
If you obtain permits for the Snow Zone, you will likely want to start hiking from Snow Lakes trailhead instead and camp around the upper Snow Lakes. I didn't get any photos in the Snow Zone because I was so exhausted in the last 8 miles of the hike and I was on a mission to finish the hike before the mexican restaurant South in Leavenworth closed. Something I would add about this portion of the hike, is that if you are through-hiking from Stuart Lake Trailhead to Snow Lakes Trailhead, don't underestimate the last 12 miles of "downhill" that you will see from the elevation profile of the hike (which I unfortunately did). There is some scrambling downhill and there is not always a clear cut trail.
Goats
Be prepared to see many mountain goats along the way. We counted 9, including a tiny baby goat.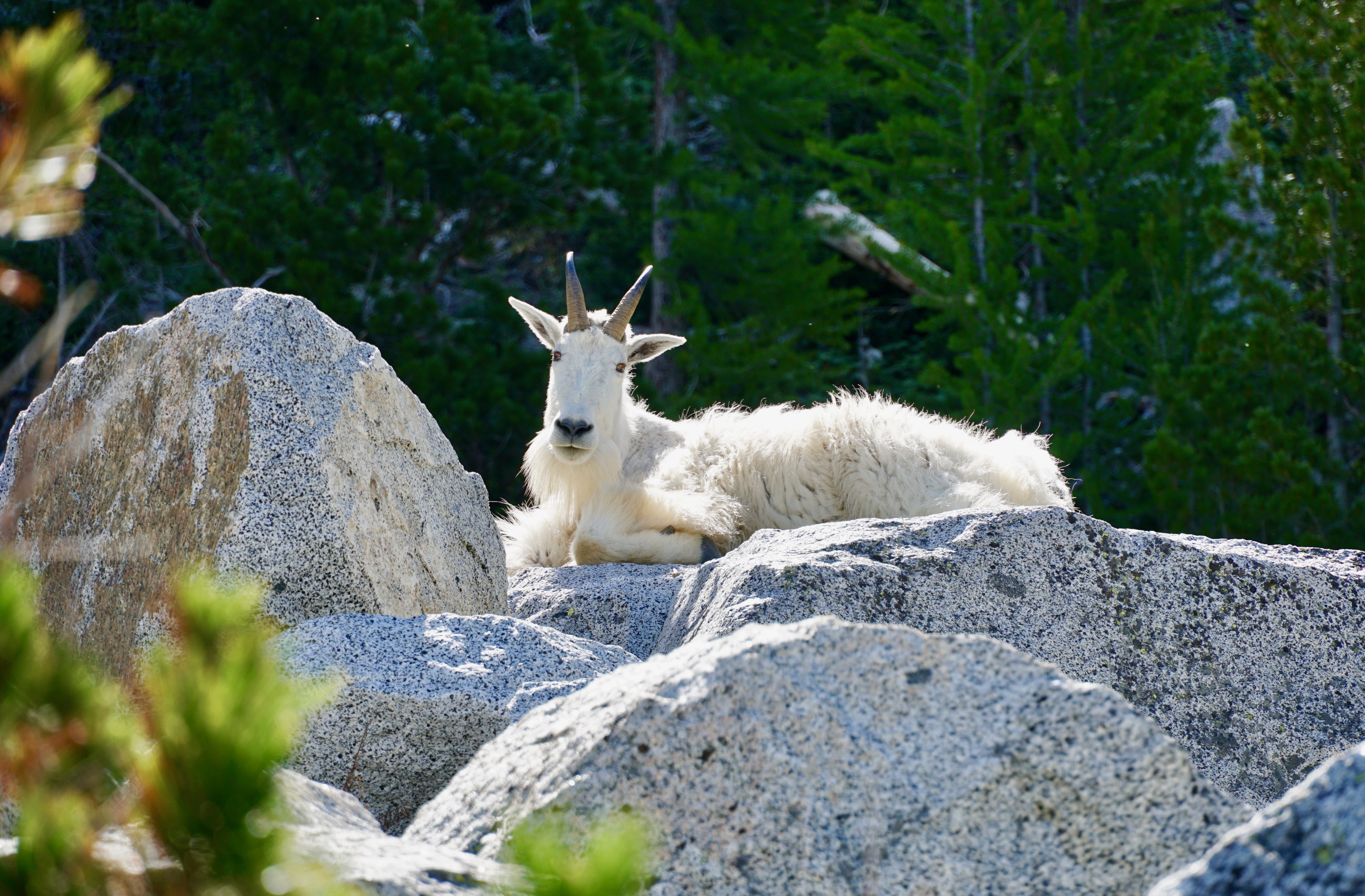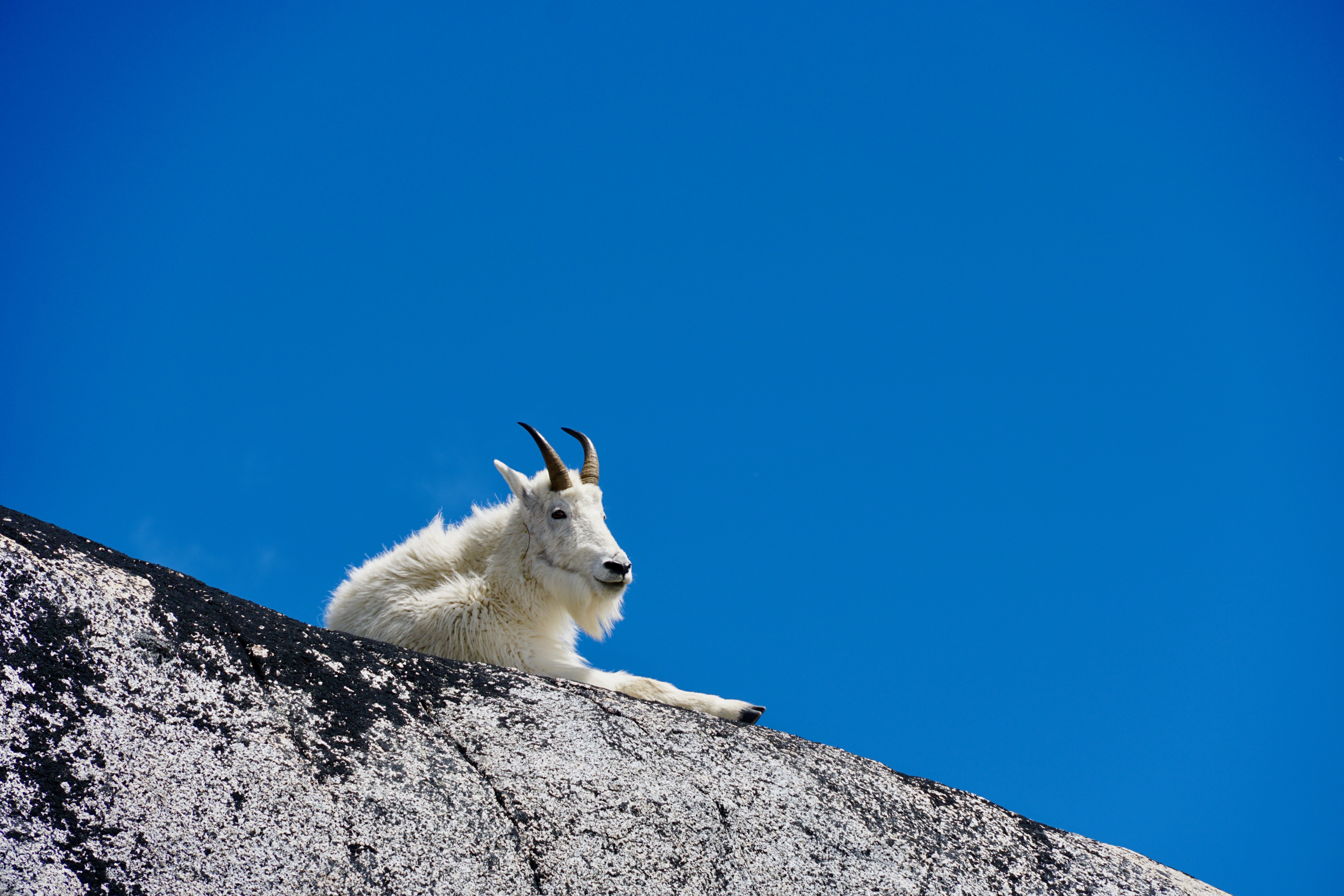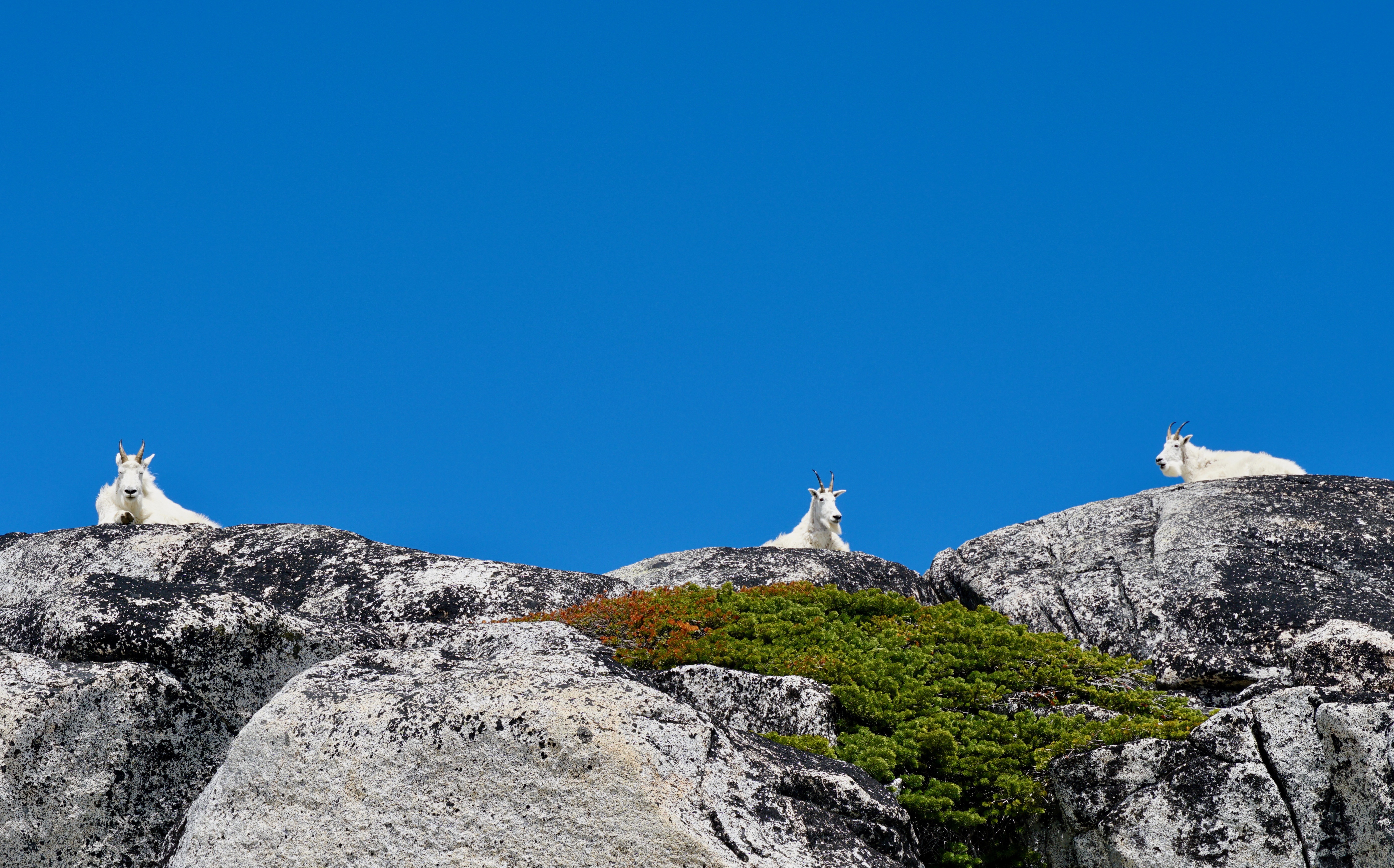 One of the unfrozen alpine lakes in the core enchantments zone. The Enchantments is worth a visit if you are in the Pacific Northwest area and are up for a fairly challenging adventure.