Before Going
Books and Resources
Pick up a copy of Lonely Planet for Cuba before you go. It is hard to go wrong with this book, there are a ton of great recommendations when it comes to food, accommodations and transportation.
Before going I would also recommend brushing up on the interesting Cuban history and culture. A couple documentaries I enjoyed watching are Cuba and the Cameraman and Cuba: The Forgotten Revolution.
Currency in Cuba
Cuba interestingly has two currencies: the Cuban peso (CUP) and the Cuban convertible peso (CUC). The value of one CUC (pronounced kook) is fixed to the American dollar and is worth roughly 25 times a CUP. The CUC was introduced in 1994 and is mostly used by the tourism industry. Bring cash to exchange into CUCs once you arrive at the airport in Cuba. I brought Canadian dollars. If you can avoid bringing U.S dollars I would do so because they charge an extra 10% fee to convert USD to CUC. Don't expect to be paying by card, most places take cash.
At the end of your trip, convert any left over CUCs you have at a bank in the city before heading to the airport. The airport won't exchange your CUCs back to dollars.
Will there be internet?
Plan on enjoying a disconnected experience while you are there. You can get WiFi at a lot of hotels and large resorts but in general you probably won't have much access while you are roaming around Cuba. If you do plan on using WiFi you will need to purchase a card from ETECSA, the monopoly telco provider in Cuba. Some hotels providing WiFi sell them onsite, otherwise you can find an ETECSA store to purchase a card for 1-2 CUCs for an hour of WiFi.
Where to stay
If you are looking to stay away from big resorts in Cuba, there are more than enough options to stay at casa particulares (private houses) for a good price. There are so many in Old Havana that you would be pretty safe finding same day accommodations by knocking on the door of a home with the casa particular symbol shown above the door in the image below.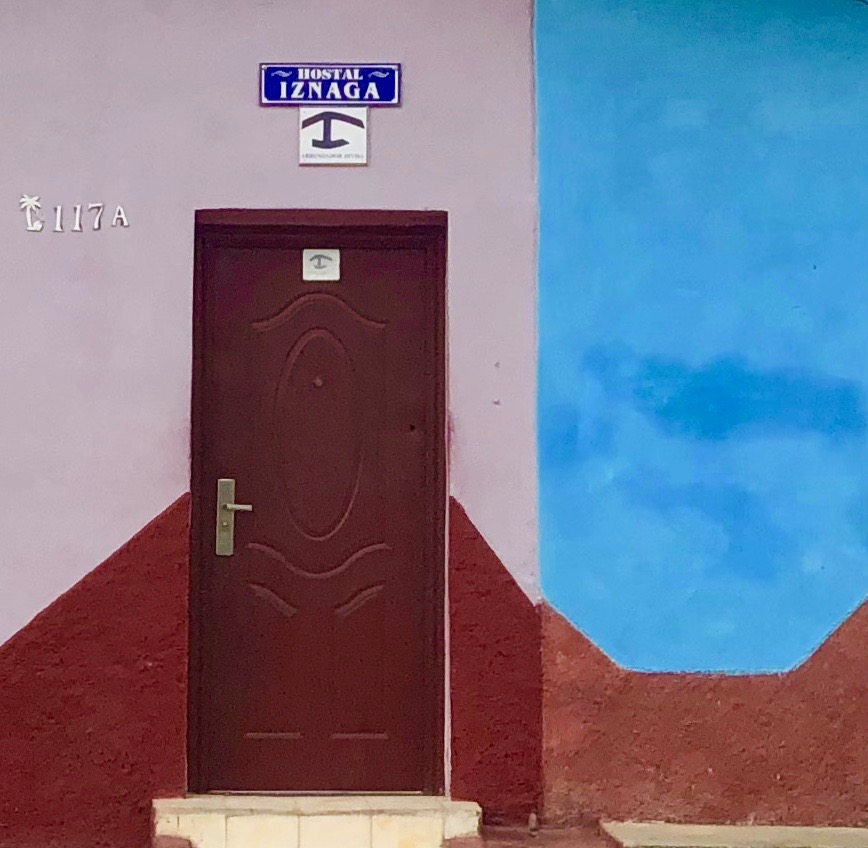 A casa particular in Trinidad, Cuba
We found nice and comfortable casa particulares in Havana and Viñales for 25 - 40 CUCs a night without pre-booking any of the accommodations and all of our hosts were very welcoming and hospitable.
An itinerary for 10 days in Cuba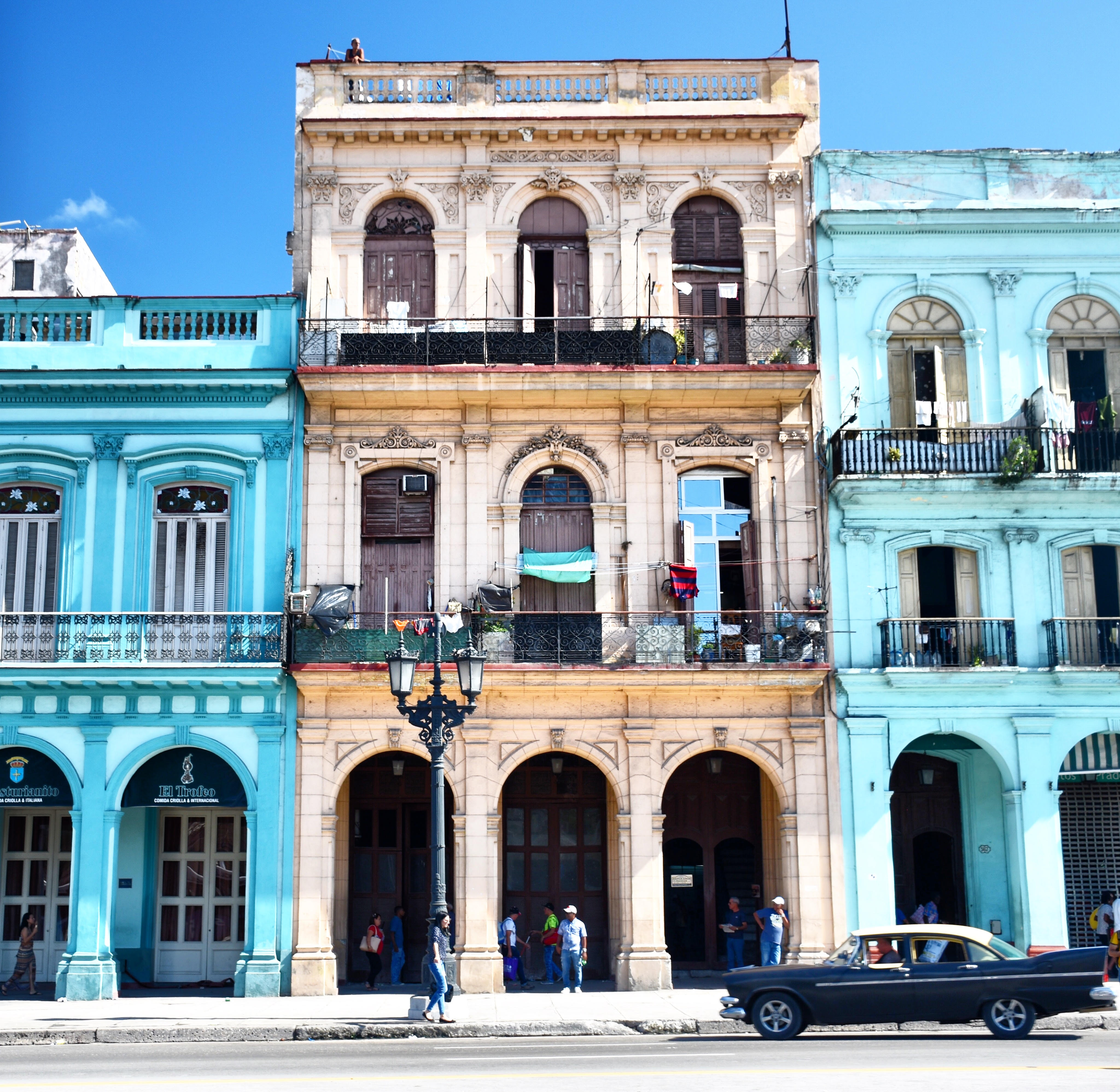 Day 1 - 4: Havana
Fly into the Havana Airport and spend the first few days experiencing the culture, music scene, art and history in Havana. When you arrive at the Havana airport there will be taxis waiting outside to take you into the city. You shouldn't need to spend more than 25 CUCs to get you to Old Havana. Three nights was a good amount of time to get to know Old Havana fairly well, go running along the Malecón, visit la Plaza de la Revolución, drive through Vedado and drink many 4 CUC mojitos. I would recommend staying in or around Habana Vieja (Old Havana). You can easily spend a couple of days walking around this area exploring the four main plazas and dining at one of the many paladars (which refers to the privately owned non-government run restaurants in Cuba). You'll have plenty of opportunity to get a ride in a 50 year old American classic car as taxi drivers are lined up along the streets of Havana waiting to give tourists a ride. Get a ride around the city with an English speaking guide (unless your Spanish is good!) in an old convertible. This is a nice way to find your bearings in the city and get to some of the areas outside of Old Havana that are not walking distance.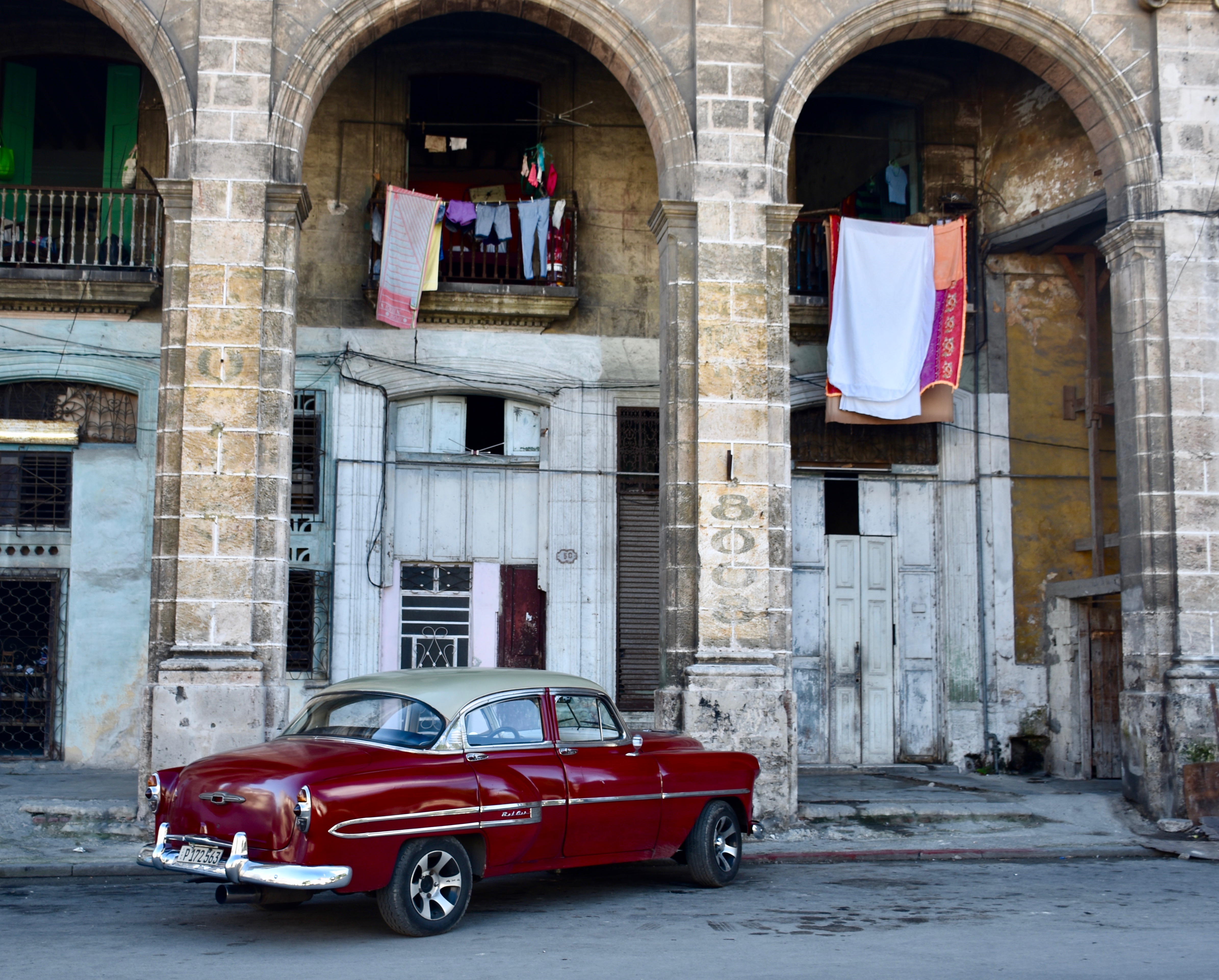 Classic car in the streets of Old Havana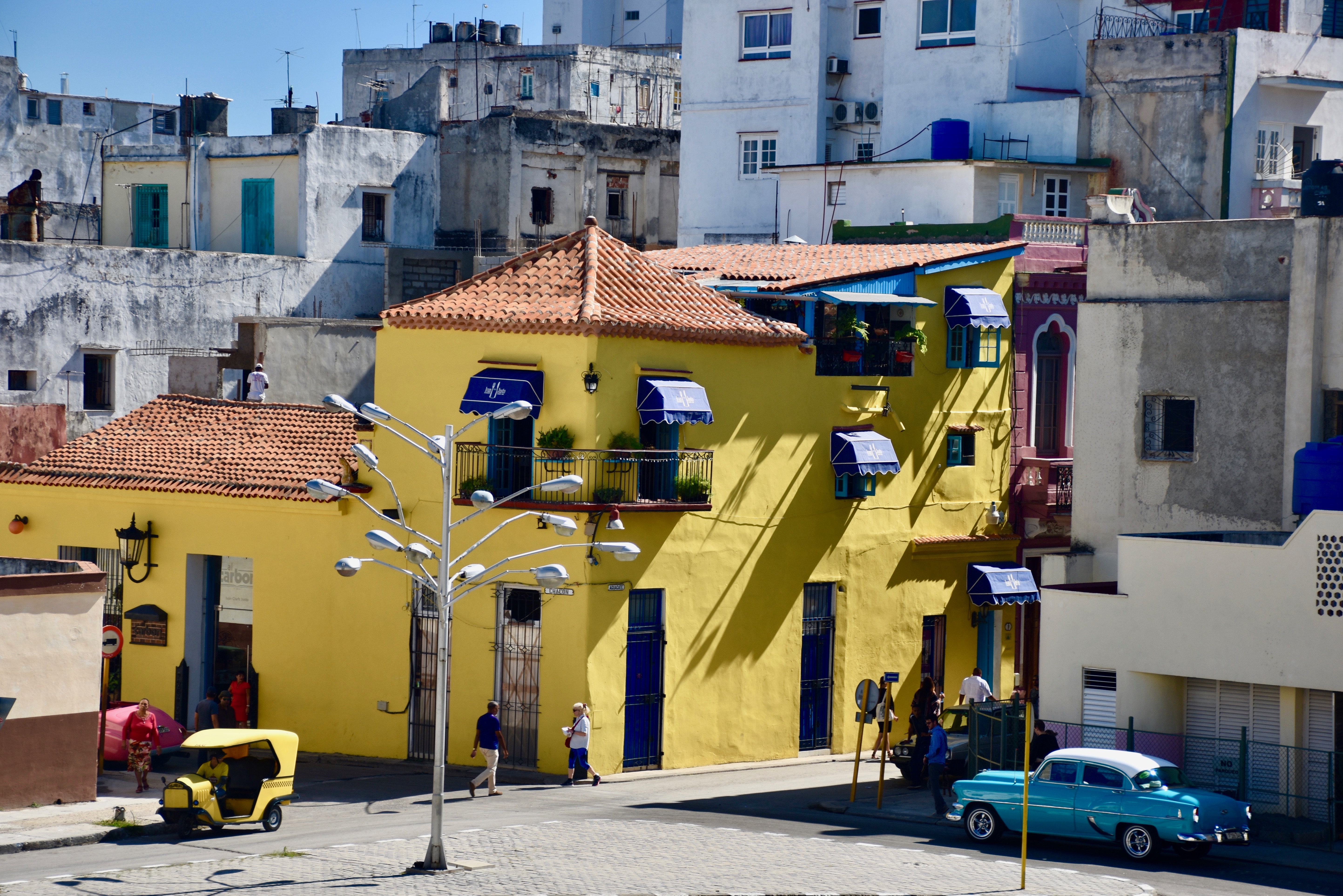 Looking out at the streets of Havana from the Museum of the Revolution
If you are into art, there are galleries on every other block in Old Havana.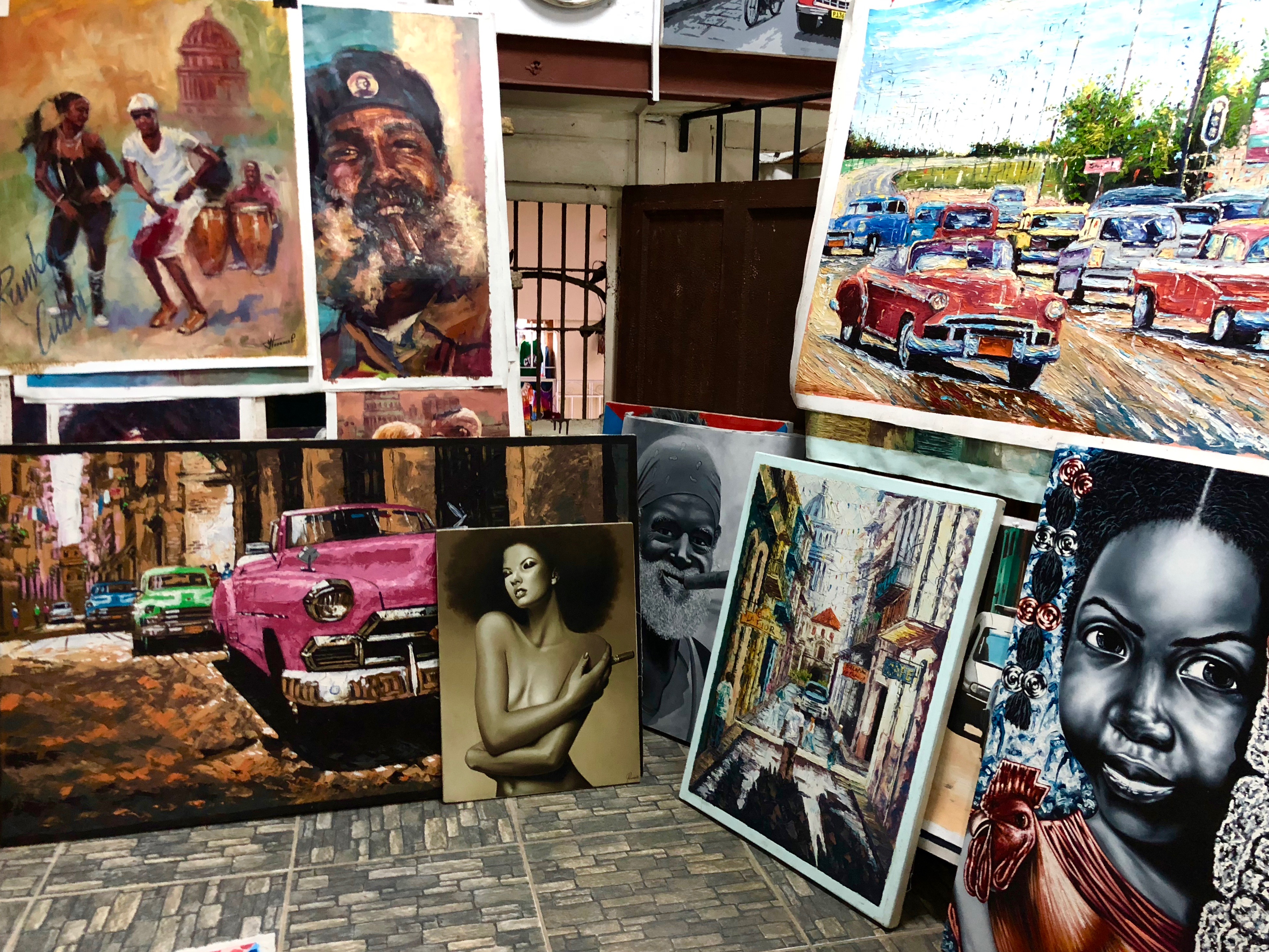 Gallery with local art in Old Havana
Stop by Floridita, one of Ernest Hemingways favourite spots, for a Daiquiri and likely catch some live music while you are there. If you want to escape the crowds of Old Havana for a bit, cross the street and walk a block from Floridita to enjoy some views of the city and a drink at the rooftop pool at the Gran Hotel Manzana Kempinski la Habana. Note: the swimming is only for guests of the hotel.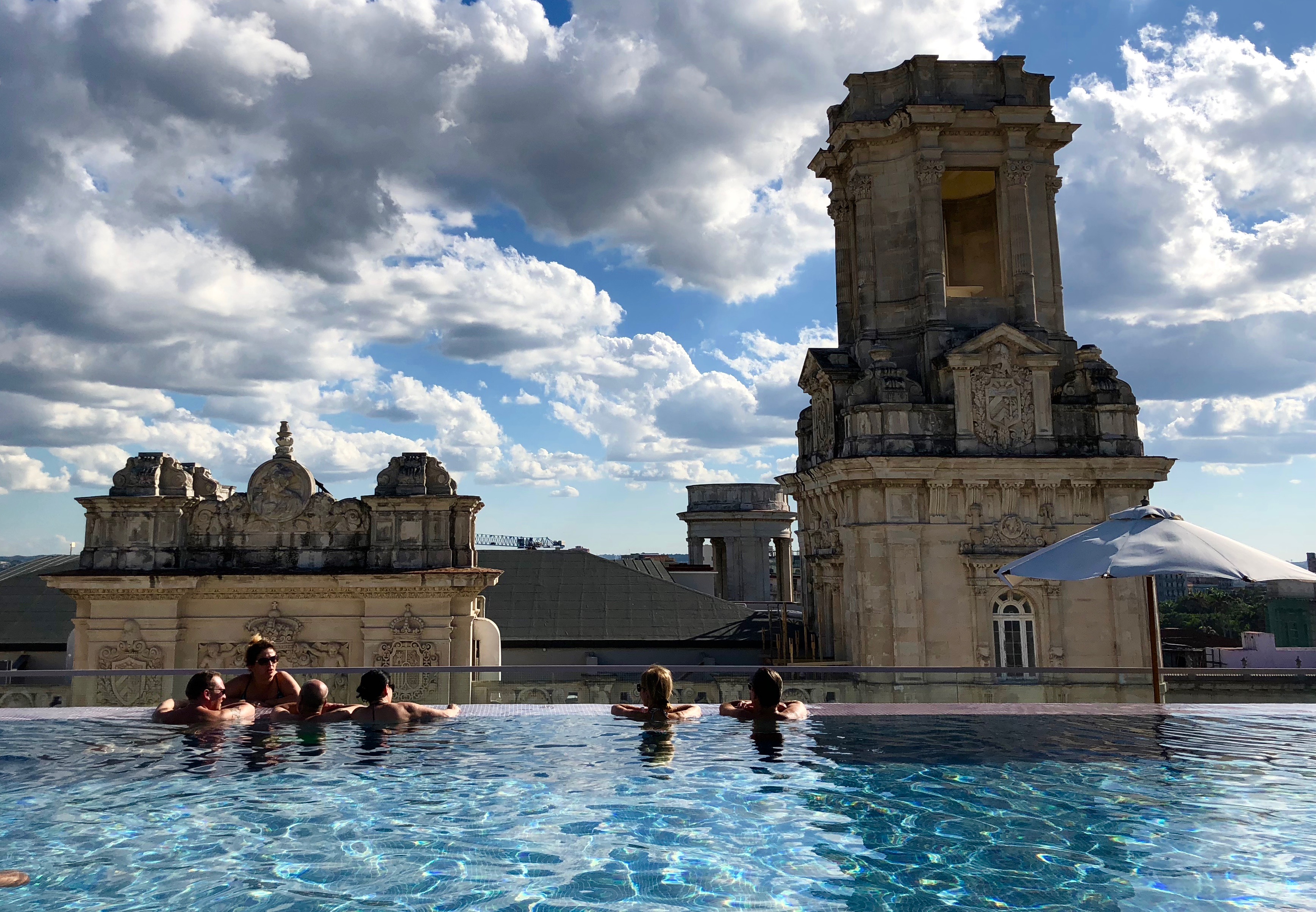 Rooftop patio at the Gran Hotel Kempinski in Havana
Day 4 - 6: Viñales
Before getting to Cuba, we had nothing beyond the first three nights booked. This gave us a nice level of flexibility in terms of where we wanted to go and also allowed us to figure out logistics with the help of locals while we were there. We knew we wanted to head to Viñales, a small town a 2 hour drive west of Havana. Viñales is home to many tobacco farms and is surrounded by beautiful green valleys. It is a quiet, easy going contrast to Havana. Having nothing booked beyond our first three days in Havana, we went down to the Viazul bus station the morning of our 4th day in Cuba to catch an early bus and head to Viñales. The bus is around 12CUC per person, but it takes 4+ hours to get to Viñales with all the stops (vs 2 hours by car). Once we got to the bus station, there was a handful of people with private taxis waiting outside offering private rides to Viñales. We were able to get a private taxi for 25 CUC / person, which in my opinion was worth the time saved and the comfort of a more modern taxi. If you try to book private taxis in advance in Havana, they will tell you it costs 170+ CUCs for the ride, so I would definitely recommend heading to the bus station and figuring out your transportation there.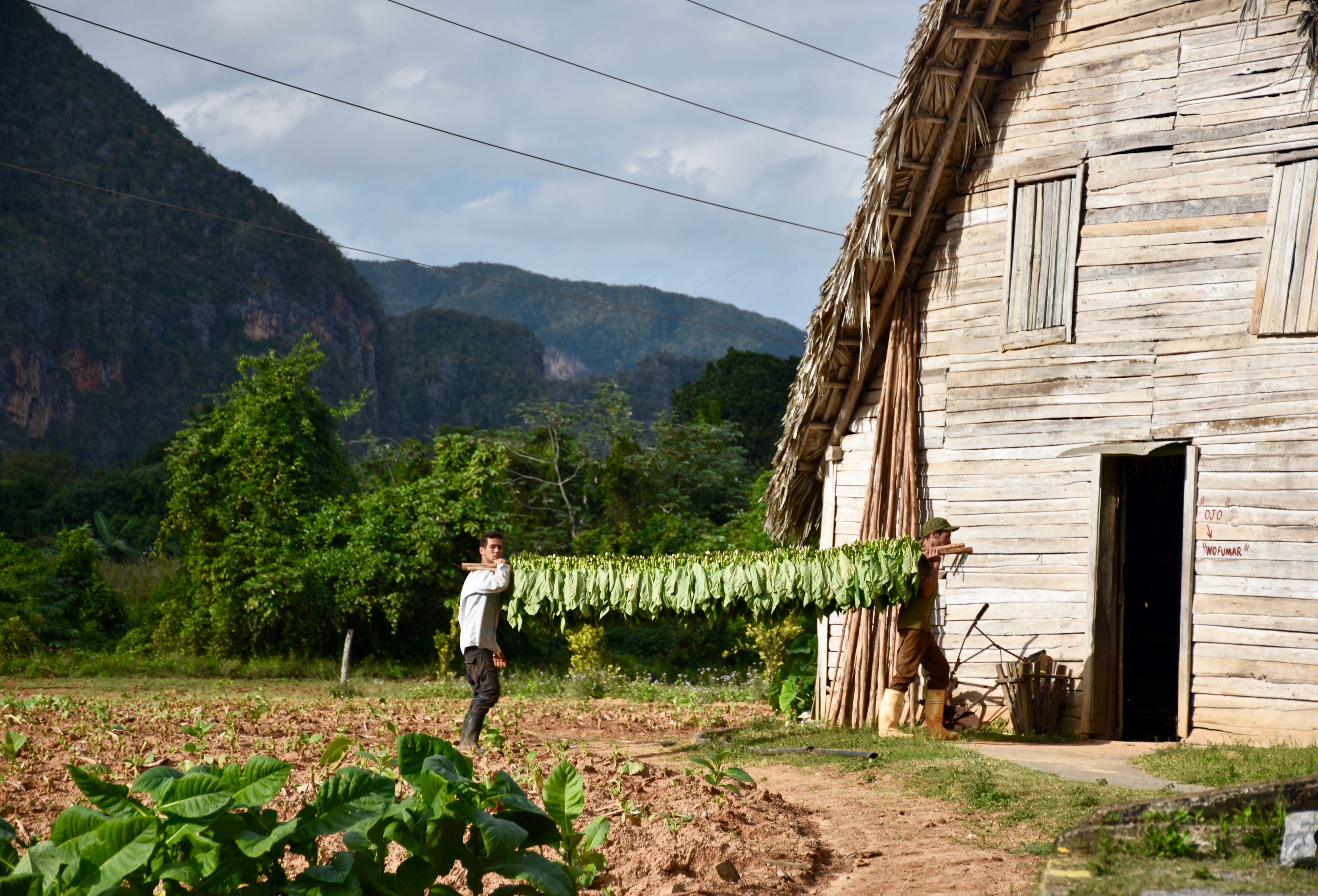 Tobacco farm in Viñales
You probably only need a couple of days in Viñales, the town is quite small, but experiencing the kind Cuban hospitality and the simple lifestyle of this small village was worth it. You can check out a tobacco farm while you are there, rent bikes and bike around the countryside or find some hiking trails. Don't worry about where to stay in Viñales. Essentially every small home in the town has extra rooms rented out for guests which cost around 25 CUC / night. A local that runs her own casa particular in Viñales helped us find a cosy room for two nights once we got there.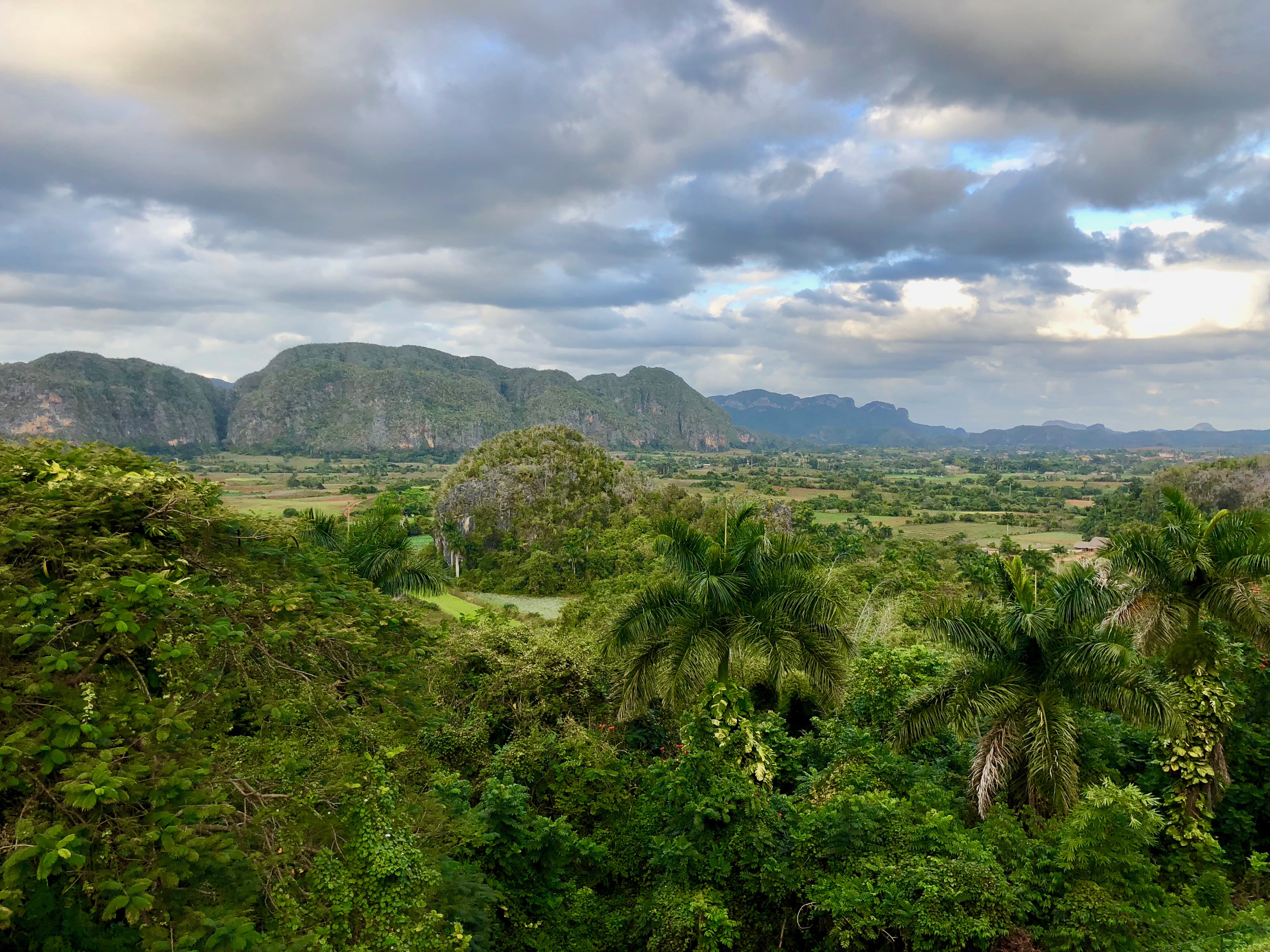 Viñales countryside
Day 6 - 9: Trinidad and Playa Ancon
We originally planned to spend the last few days relaxing at the beaches of Varadero, a popular tourist destination for people seeking all inclusive resorts, about 2.5 hour drive east of Havana. We didn't go to Cuba for all inclusive resorts but we definitely wanted some time on the beach before leaving. Luckily we hadn't booked anything in advance because a cold front was coming through parts of Cuba and it was supposed to be cold and cloudy in Varadero. After we checked out of the casa particular in Viñales we walked to the Viazul bus station with our bags to see if we could get to Trinidad and Playa Ancon about 4 hours south east of Havana instead. We originally wanted to visit Trinidad as well but didn't think we would have enough time and in the end I am happy we made the change of plans to visit Trinidad and Playa Ancon. A local that needed to get to Trinidad offered to give us a ride for ~40 CUCs / person which seemed reasonable given the 6-7hour drive and the bus would have cost 37 CUC / person.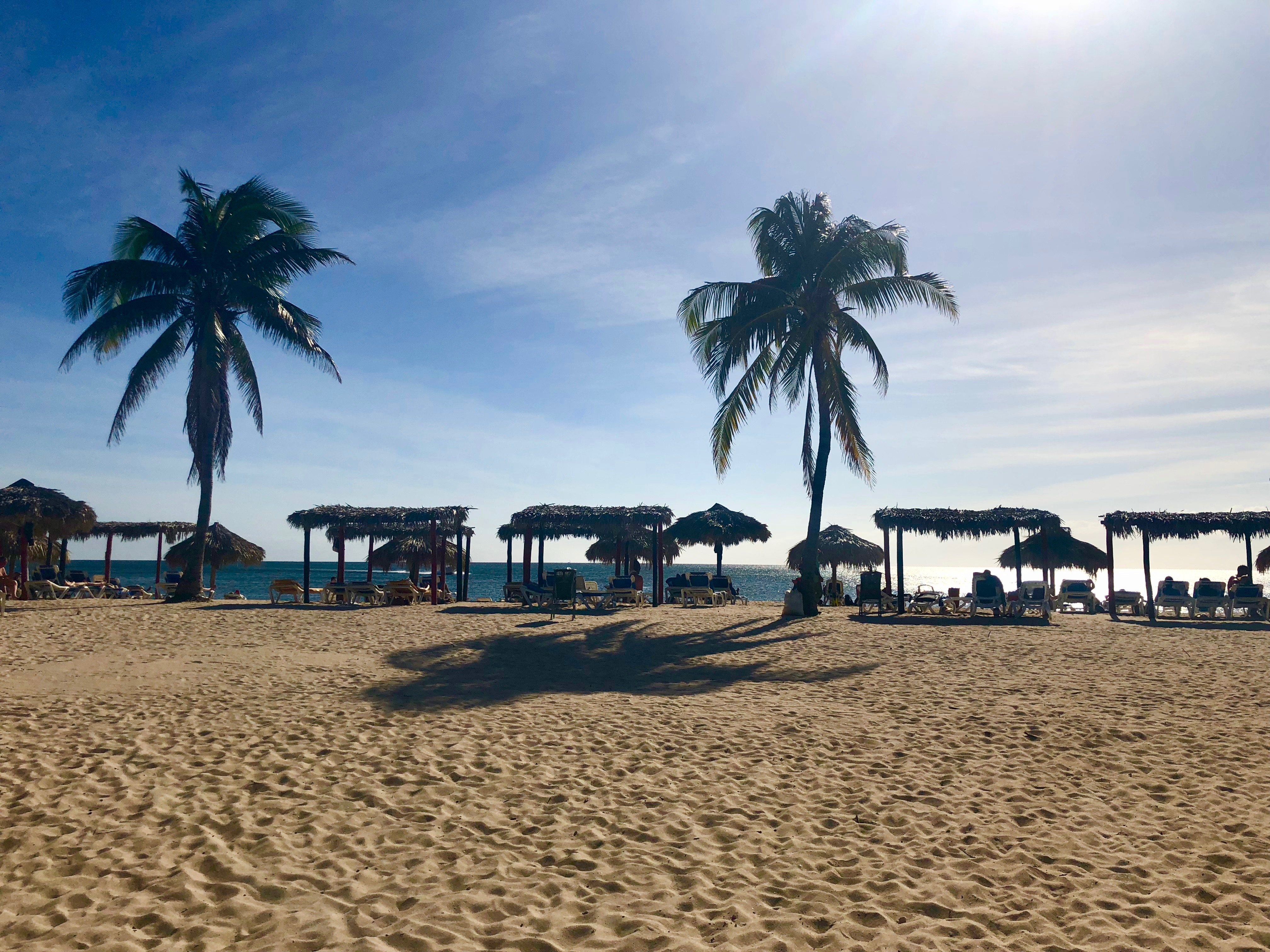 the beaches of Playa Ancon
You can stay at a casa particular in the town of Trinidad, or go to one of the few hotels at Playa Ancon about a 10 minute drive outside of Trinidad if you want to spend a few days right on the beach. The only option for Playa Ancon hotels are all inclusives so they are a bit pricier around 200 CUC / night vs the 30 - 50 for a casa particular in the town. Don't expect much from the food at the all inclusives (or in Cuba in general) and if you are chocolate obsessed like I am, you might want to bring your own with you on the trip (unless you can last ten days hehe).
Trinidad is a cute colorful colonial town with 1850s architecture. It has a lively nightlife with hard to miss live music, there is some hiking in the area and it is close to the beach. There is a lot to offer and was a nice way to wrap up 10 days in Cuba.
Head back to Havana for your last night in Cuba before catching your flight back home on day 10!
Day 10: Fly home from Havana
Remember to exchange your CUCs back to dollars if you have any leftover that you don't need before going to the airport!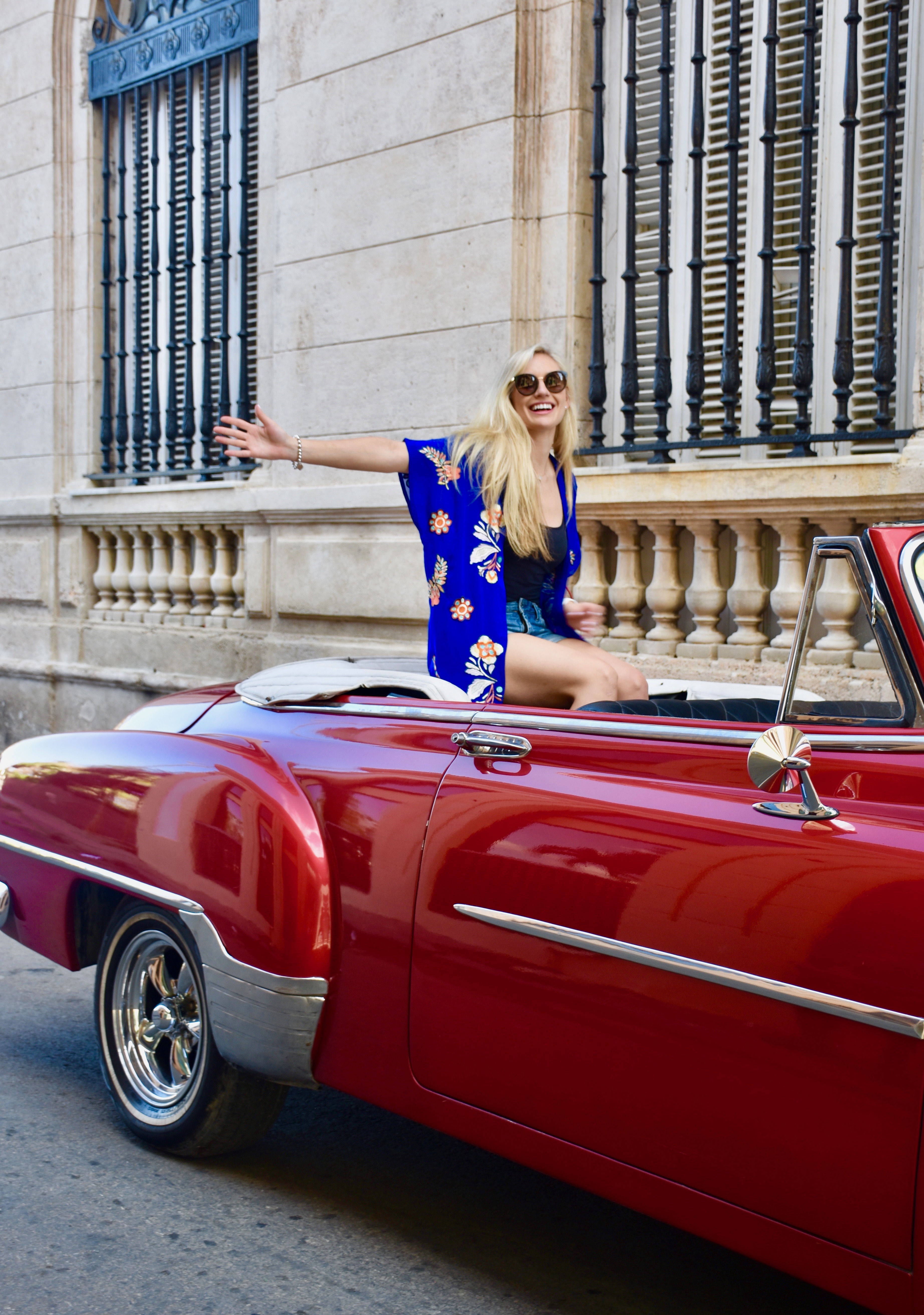 That's me! Adiós Cuba!