I've done a good amount of international travel, but something I felt that was lacking was not having explored my own country, Canada. What led me to discovering the Chilkoot Trail was the research I started doing after signing up for the Yukon River Trail Marathon, a 42km trail run just outside of Whitehorse, Yukon.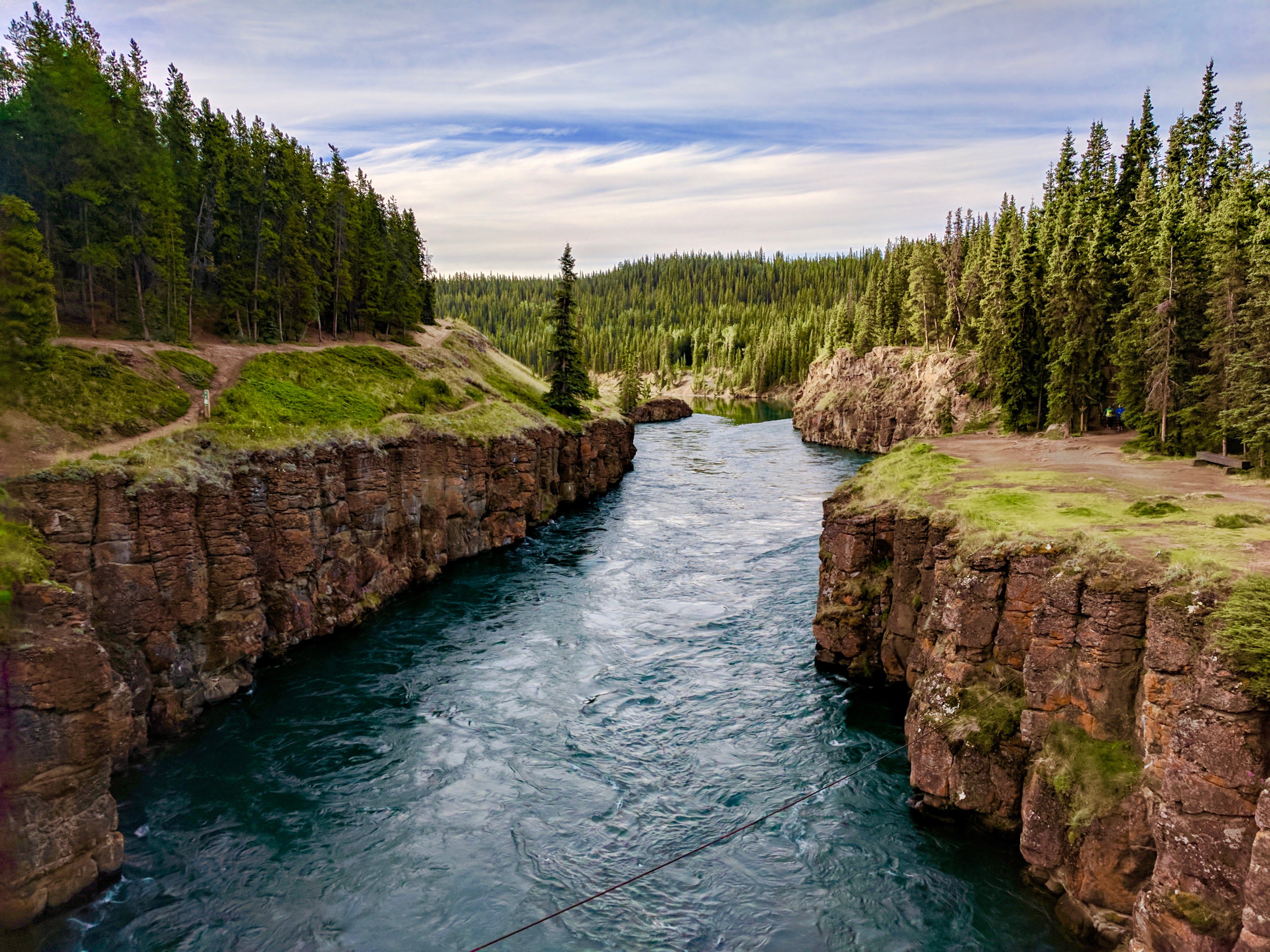 A glimpse of the beautiful scenery along the single track trail that follows the Yukon River outside of Whitehorse
About the Chilkoot Trail
The Chilkoot trail really stood out as something I wanted to do while I was way up north in Canada. It is a 53km trail that starts near Skagway, Alaska and crosses the border into Canada and ends in Bennett, British Columbia, a small abandoned town with no access other than railway. The trail provides a historic glimpse into the 1890s Klondike Gold Rush where prospectors travelled from Alaska, across the Chilkoot trail to Lake Bennett, carrying a years worth of supplies and food, before building boats and rafts to travel along the Yukon River up to Dawson City to start mining for gold. Over 29$ million in gold was mined around Dawson City in the few years between 1896 and 1899.
What is unique about this trail is that there are still remnants from old rusted supplies that were left behind by the prospectors in the 1890s. You can see old pots and pans, stove tops, wheels and tools that were used. This national historic site tells a story and has been referred to as "the world's longest outdoor museum".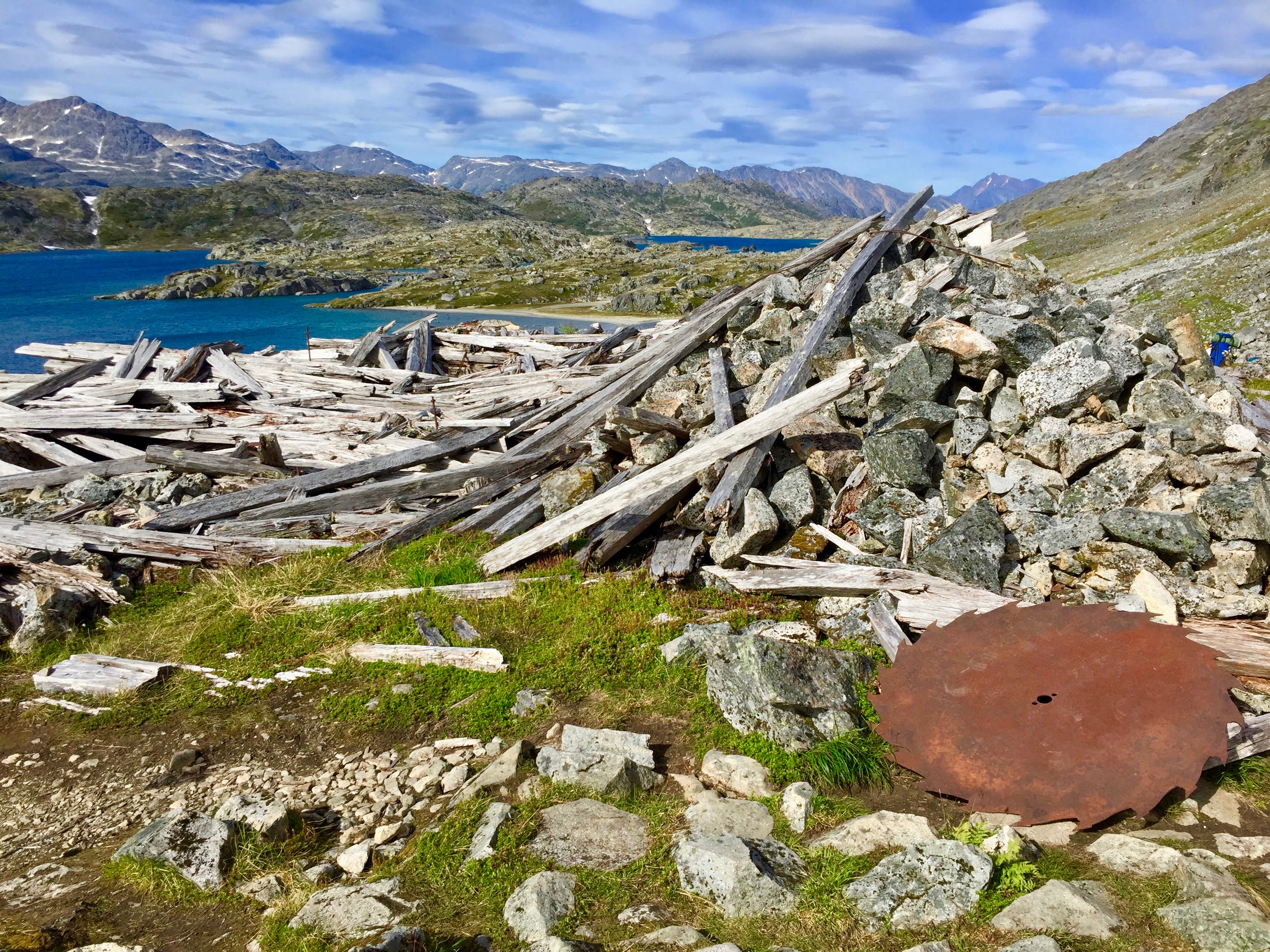 Machinery left behind on the trail from the 1890s Goldrush
Planning your trip
Permits
You will need to do a bit of planning before arriving because the trail requires permits, which you can get by calling parks Canada. All the info can be found here. There is a maximum of 50 people allowed to cross the Chilkoot Pass from the U.S into Canada each day. 42 of the permits can be booked in advance and 8 permits are saved daily for walk-ins on a first come first serve basis. Due to my wonderful last minute planning skills, all of the advance permits were already booked for when I planned to be there (I checked about a month and a half in advance, I tend to book a lot of last minute trips), so I took a chance by showing up (YOLO right?) and was luckily able to get a same day walk-in permit for the trail.
Where to stay on the trail
You need to choose the campgrounds you plan to stay at at the time of booking your permit. A lot of people will spend 5 days and 4 nights on the trail. This is probably a great option if you want to take your time and soak in the nature. I would NOT recommend doing what I did, which was spend only two nights on the trail the day after running your first marathon. Marathon aside, you probably want to spend more than two nights on the trail to not feel rushed and exhausted the entire time. If you are okay with hiking 13 miles on your first day, I would recommend the following itinerary.
Day 1: Trailhead to Sheep Camp
We arrived in Skagway the night before from Whitehorse. It is an easy 2.5 hour drive from Whitehorse, and it is worth spending a day or half a day walking around Skagway. Drive or get a ride to the Chilkoot trailhead in Dyea Alaska (about 16km from Skagway) the morning you plan to start the hike. The first 13 miles of the hike from the trailhead to Sheep Camp are below treeline and close to rivers. There is a lot of fresh water along the trail so you don't need to worry about that. Although most of the climbing will be on day two there is definitely elevation gain, some ups and downs throughout the first 13 miles of the hike.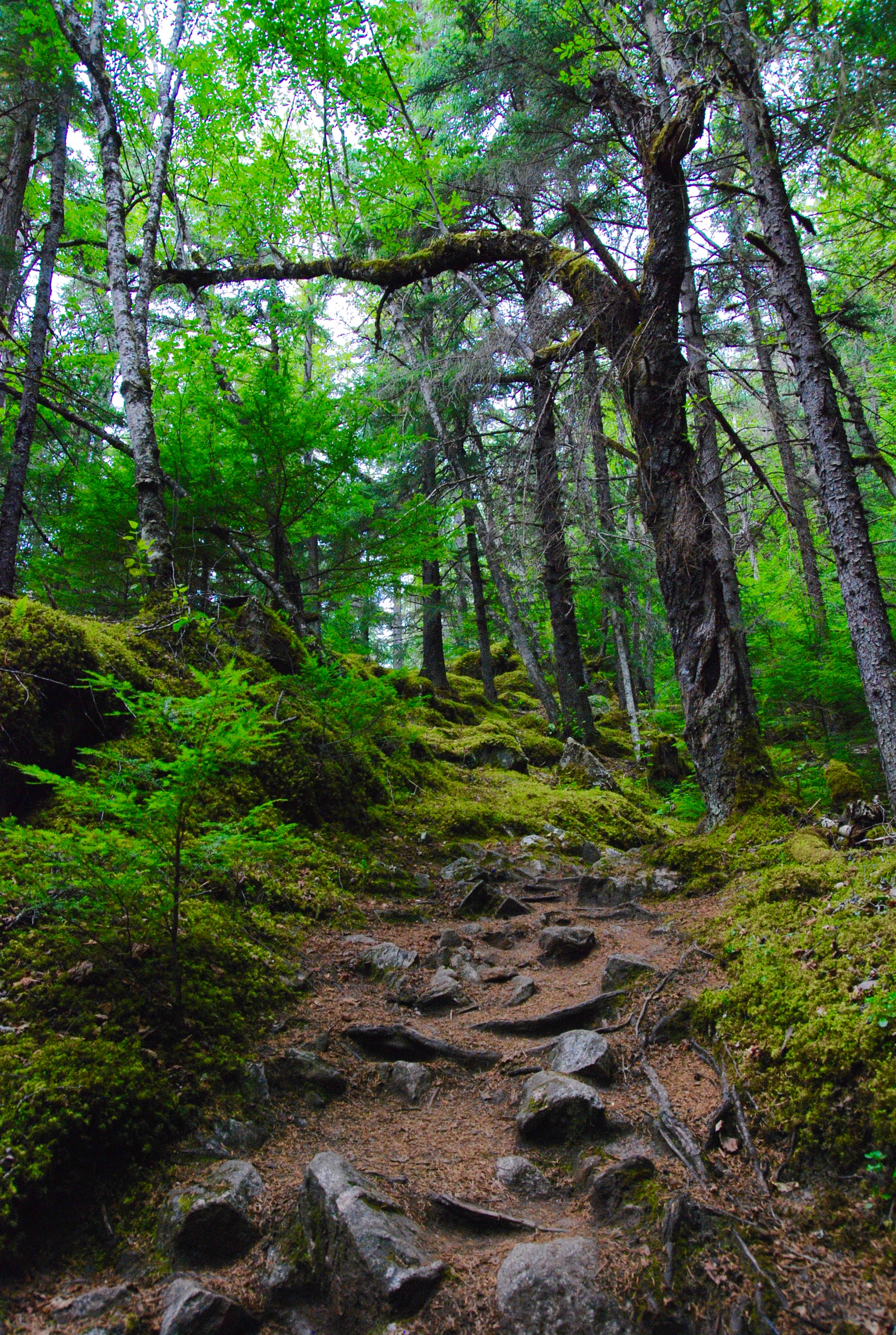 Near the beginning of the trail, there is a bit of uphill through the forests.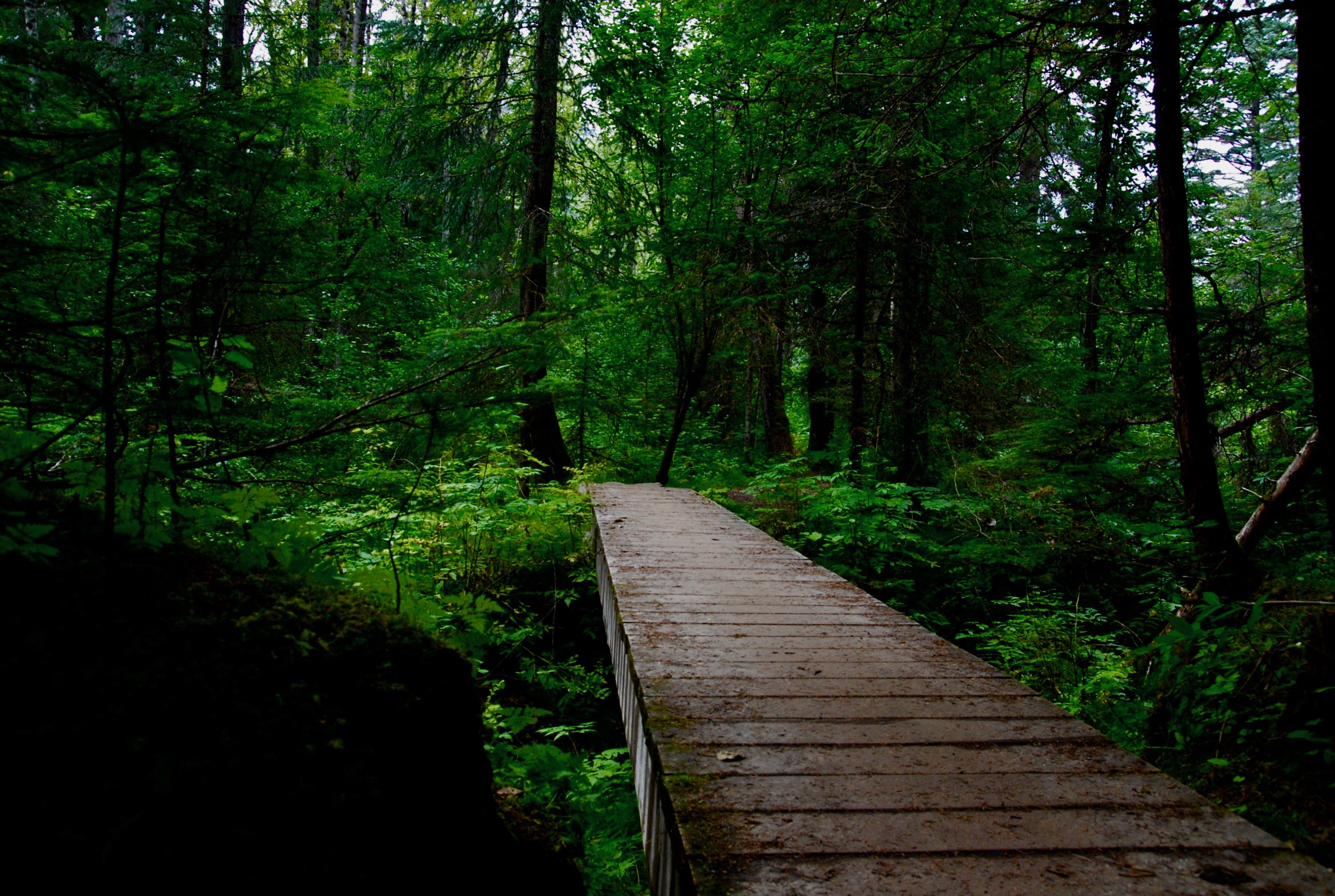 Some river crossings before reaching Sheep Camp.
Arrive at Sheep Camp and get a good sleep ready for an early start on day 2! It can get pretty cold at night even in August so make sure you have enough layers.
Day 2: Sheep Camp to Happy Camp
Day 2 will involve hiking 7.5 miles from Sheep Camp to Happy Camp and climbing over the Chilkoot Pass (the Golden Stairs). 7.5 miles might not sound like too much but it can be fairly slow going since you will be gaining roughly 3000ft over only a few miles with a 25 - 30lbs backpack on your back. I am not sure if it is just because I was so sore from the marathon, but hiking poles were a lifesaver!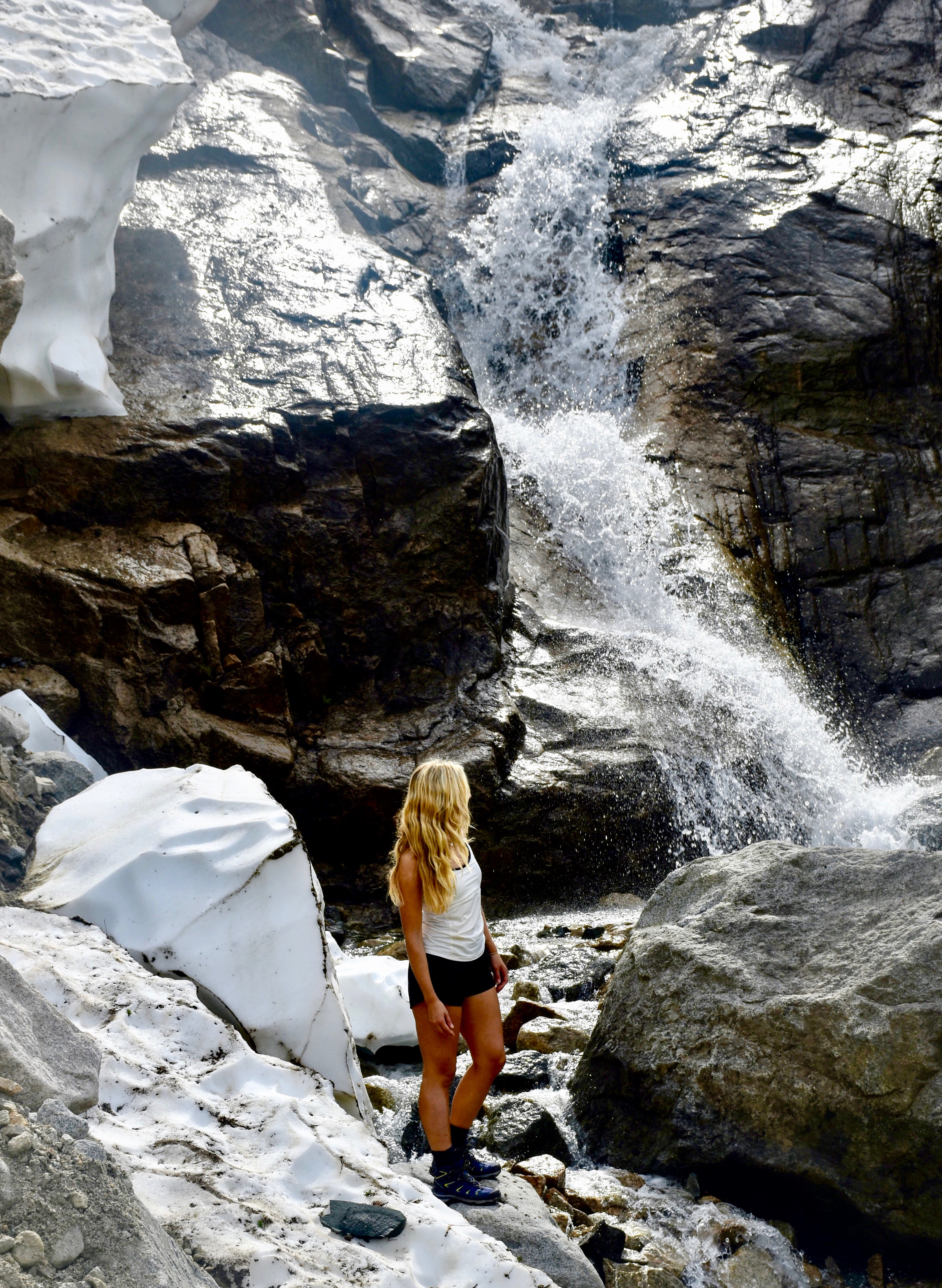 On our way from Sheep Camp to Happy Camp before climbing over the Chilkoot Pass
If you go earlier in the season, even in June, the Chilkoot Pass will most likely still be covered in snow and there can be avalanche hazards. We went early August and got lucky with beautiful weather. Typically there is a lot of fog and lower visibility around the pass.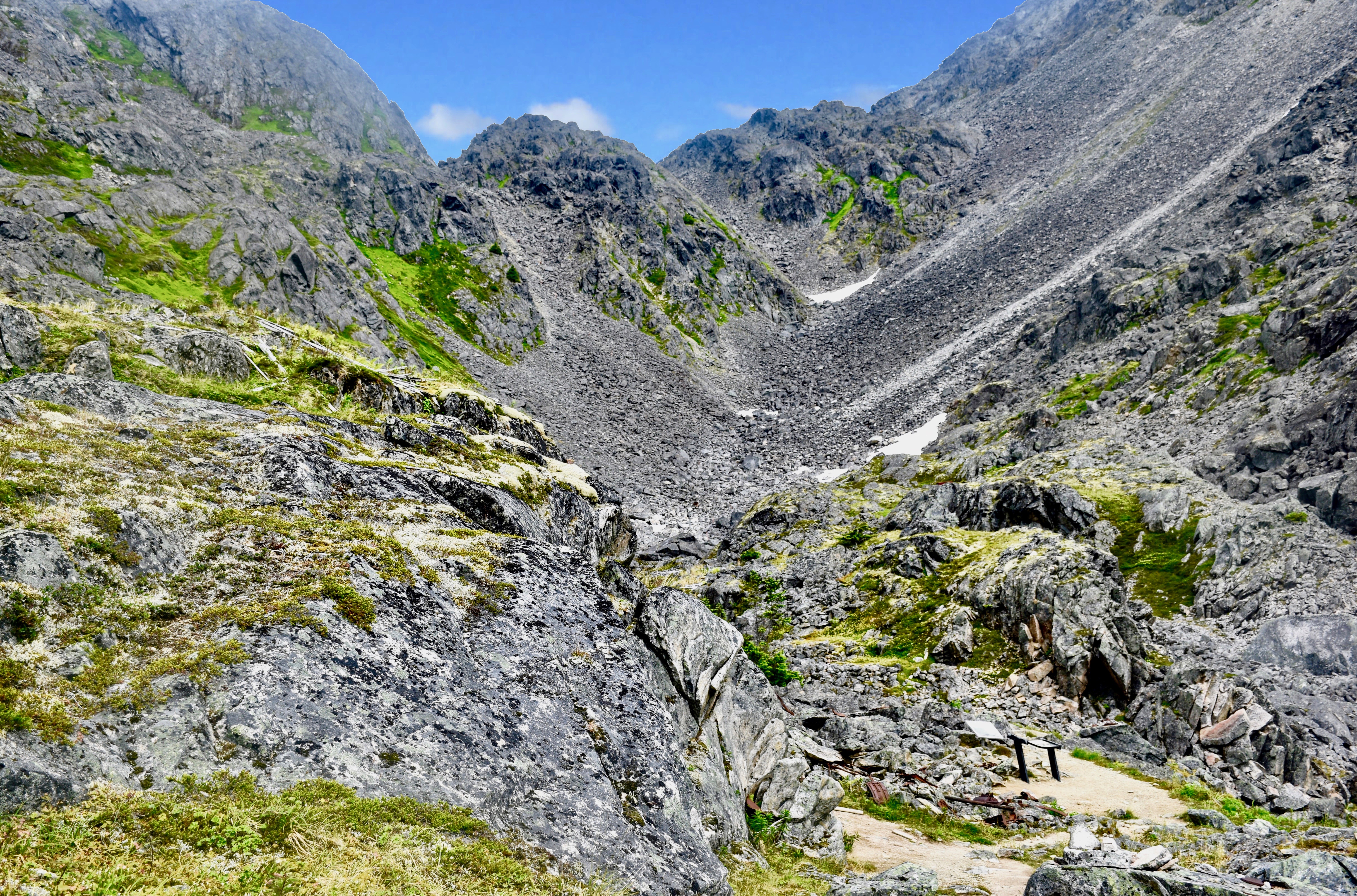 A view of the rocky scramble leading up and over the Chilkoot Pass. The Chilkoot Pass is the first steep pass of rocks looking straight ahead, leading up towards the left of the photo up and over the mountains.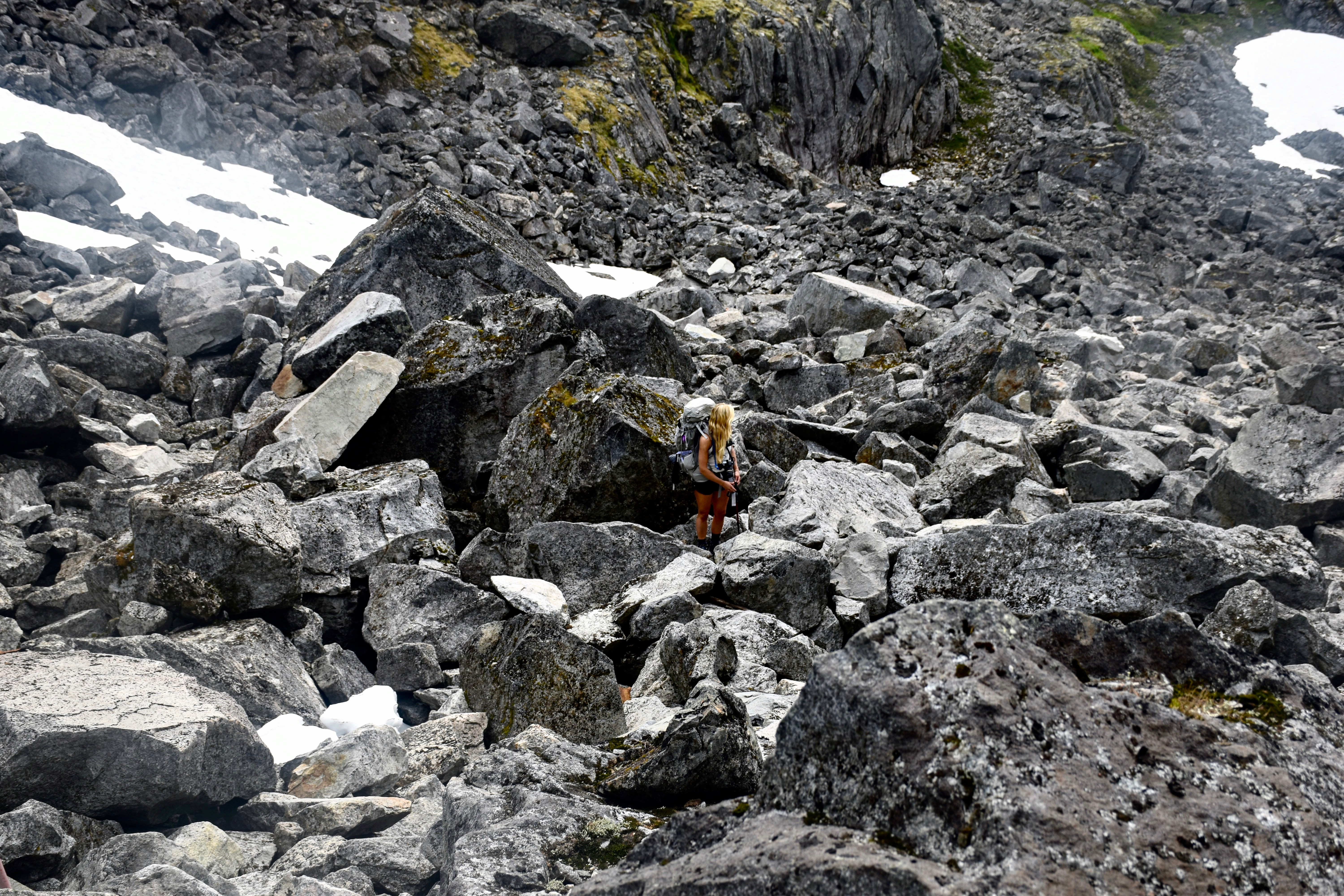 The beginning of the climb over the Chilkoot pass, not fully realizing the next two hours would be spent climbing up and over these rocks.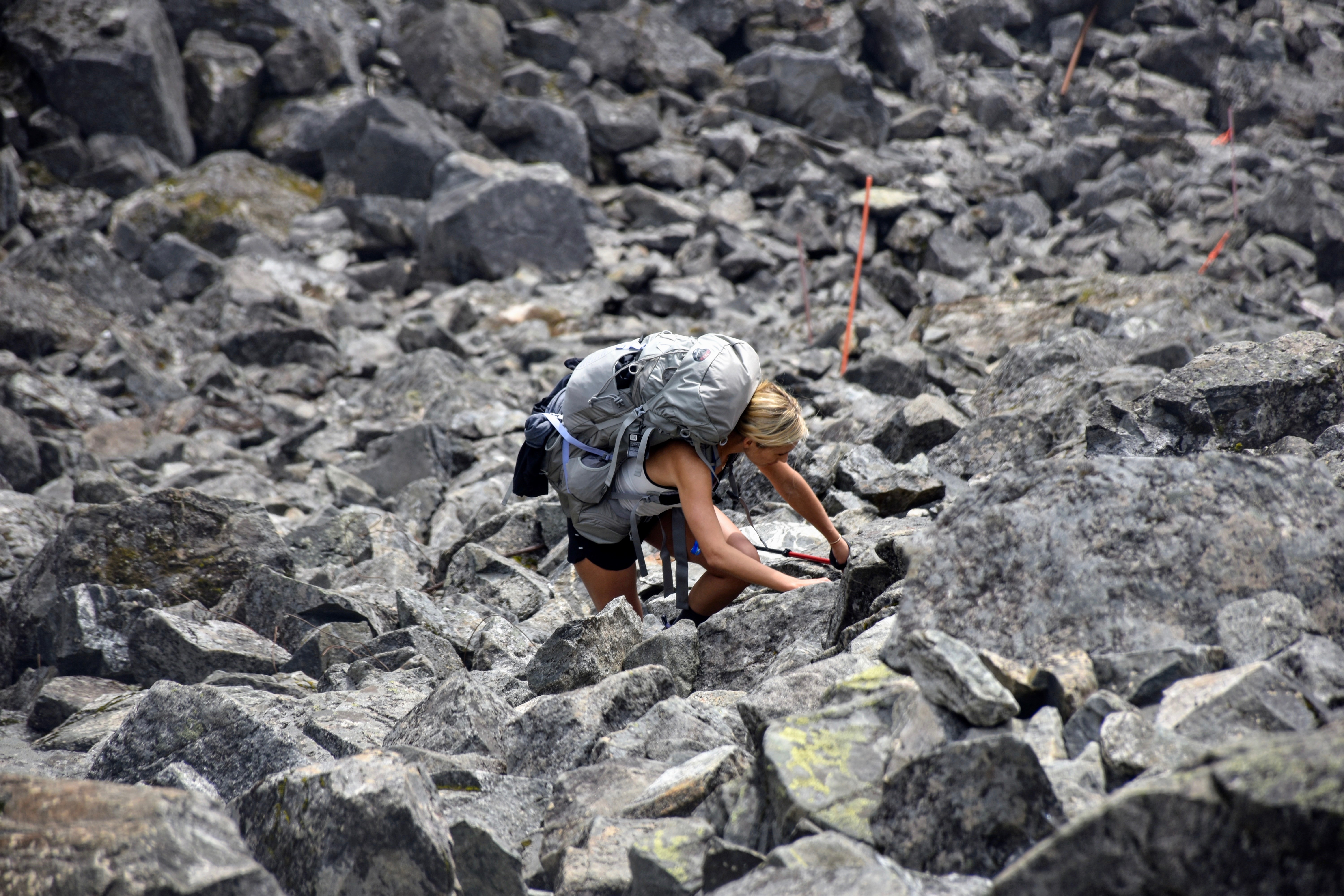 Me, absolutely struggling to make my way up what is referred to as the 'Golden Staircase' with my heavy pack on.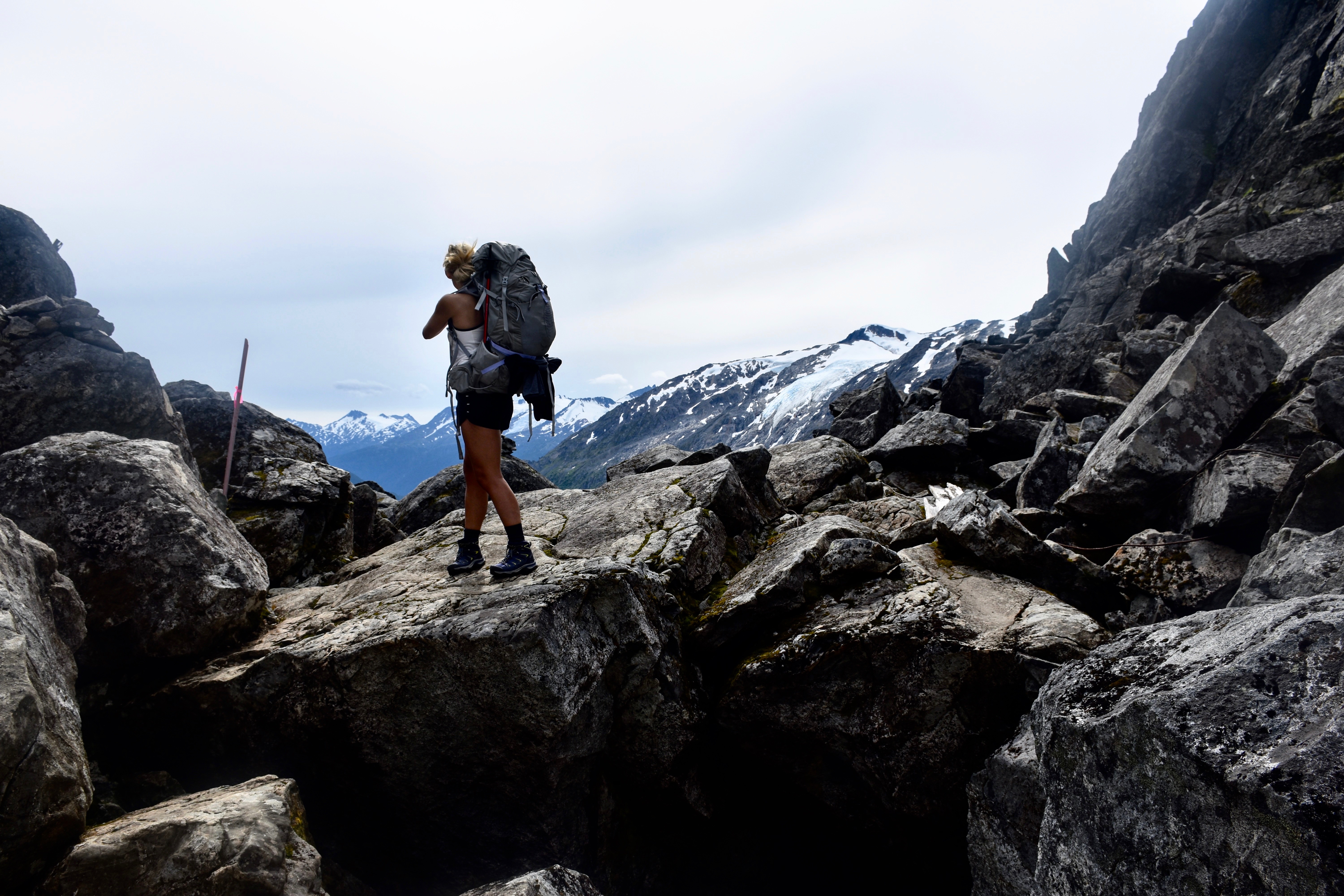 Eventually made it to the summit of the Chilkoot pass, which marks the border between Canada and the U.S. Ready to enter the Canadian portion of the trail into British Columbia.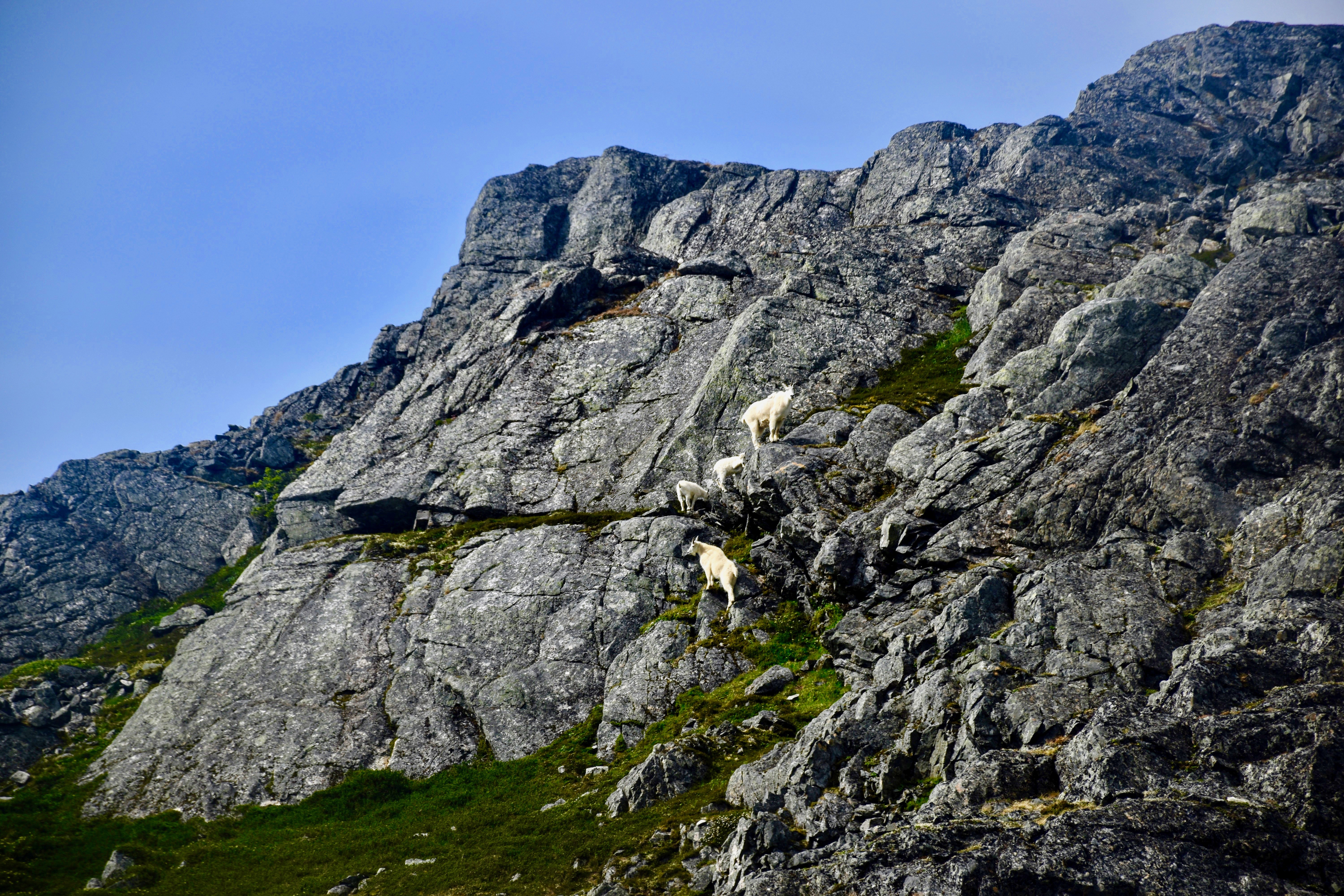 If you are lucky you might get to see some wildlife. We were lucky enough to see mountain goats. While we didn't see any bears, the area is home to a lot of them and there were sightings around the campsites we stayed at. You can travel with bear spray and make sure to lock up any food at night in lockers provided at the campsites.
Once you've reached the summit into the Canadian portion of the trail, you don't have too much further to go before reaching Happy Camp for the night. We skipped Happy Camp and went from Sheep Camp to Lindeman City in one day, but again, I do NOT recommend this (we only did this because we were time constrained and needed to make it back to catch a flight).
Day 3: Happy Camp to Lindeman City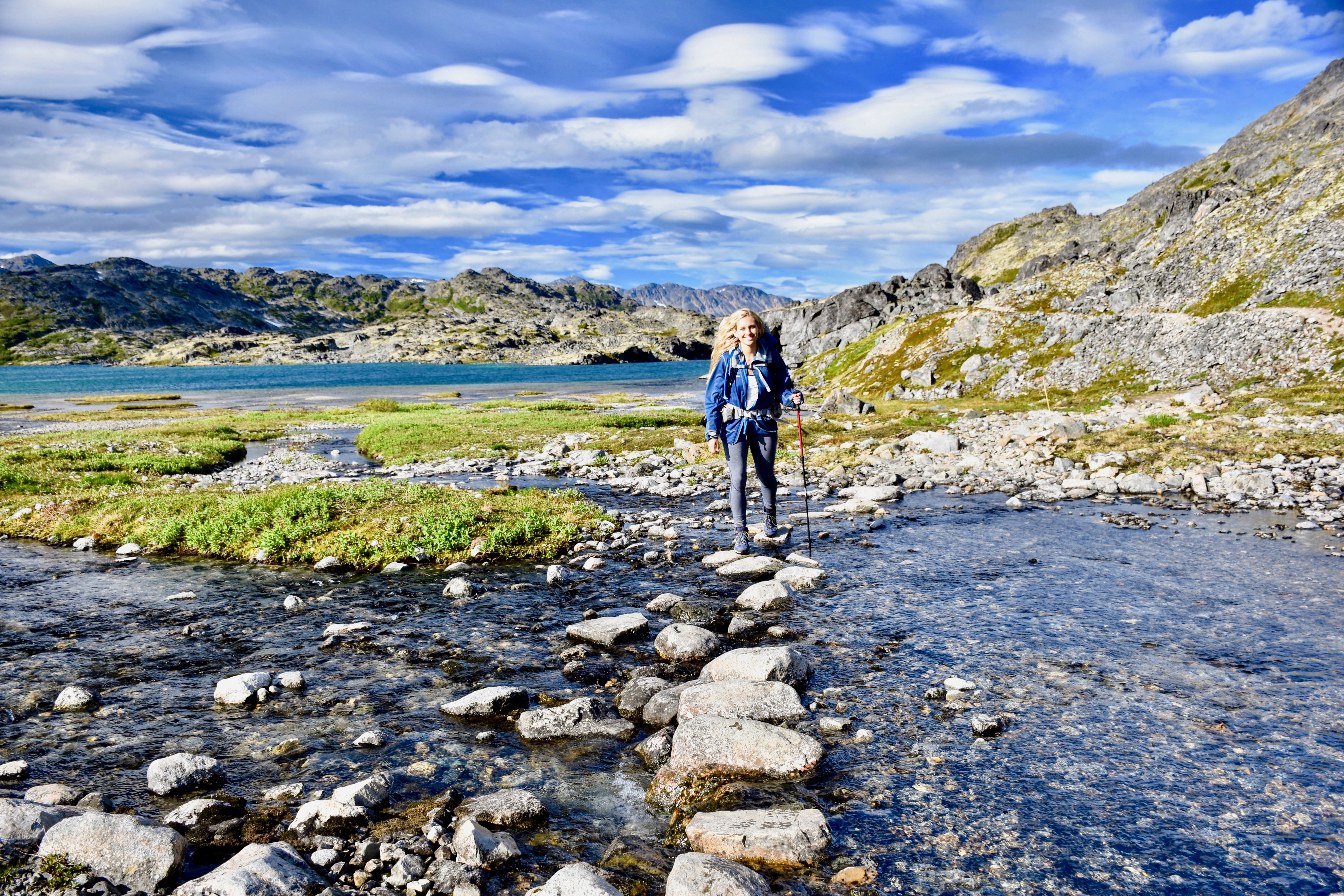 The Canadian side of the trail presented us with some of the most beautiful scenery I have seen. There are some river crossings between the summit and Lindeman City but most of them are fairly well marked to cross.
It is about 5.5 miles from Happy Camp to Lindeman City. This day will be a lot more relaxed than the previous day and Lindeman City campsite is on a beautiful lake, a nice place to spend some time relaxing before the hike comes to an end.
Day 4: Lindeman City to Bennett
You will need to get up early enough to make it back to Bennett to catch the one train (departing around 3:15pm) that will take you back from Bennett to Skagway. You can book tickets here (which you need to do before going).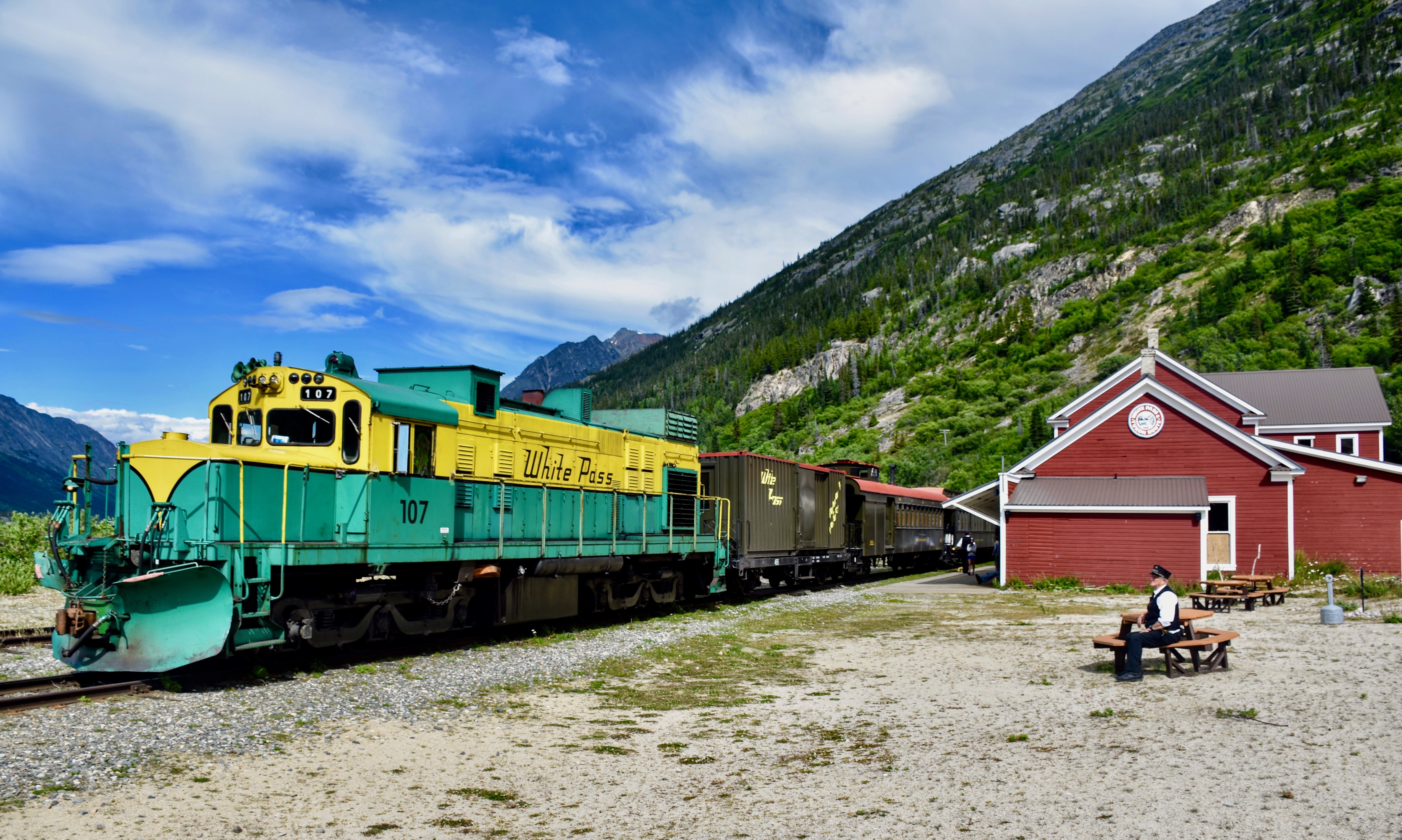 In Bennett, waiting to board the White Pass and Yukon Route train back to Skagway, 53km later.
If you are planning on doing this trip, don't hesitate to reach out with any questions!