It is hard for me to even begin describing the beauty of the Na Pali coast and this spectacular trail. If you are planning a trip to Hawaii, or Kauai in particular, and you like spending time outdoors, I would absolutely recommend fitting this into your trip.
Permits needed!
You will need to do some advance planning. When I checked for permits for the Kalalau trail they were unavailable up to 5+ months in advance, so plan in advance! You can purchase permits here. Choose the Kauai, Napali Coast State Wilderness location. The permits are made available a year in advance.
The hike is a 22 mile roundtrip hike from Ke'e beach, the furthest point you can reach by road along the North Shore in Kauai, to Kalalau beach, which is only accessible by foot along the Kalalau trail, or by boat (there are strict regulations about accessing the beach by boat and you will need a permit for this as well). I would recommend staying somewhere in Princeville the night before you plan to hike, which is about a half hour drive to the trailhead at Ke'e Beach.
I was training for a marathon at the time and had limited time during my trip to Kauai, so I did the 22 miles out and back in a day (had I had more time I would have spent a night at Kalalau beach). According to alltrails.com you will gain about 6200 feet in elevation (and 18.3 miles), though my watch hit a little over 8000 feet (and 23 miles). You will definitely want to spend a night camping at Kalalau. The trail can be exhausting, especially in the heat, and the scenery is so breathtaking you will want to take your time, relax and take it all in. You can hike in 11 miles to Kalalau beach and spend a night or two relaxing in quiet untouched nature by the ocean before hiking the 11 miles back out. Bring your tent and some snacks. Note: if you bring chocolate it will likely be completely melted by the time you make it to the beach (but nonetheless still very much worth it, just make sure to pack it well so it doesn't make a mess! hehe).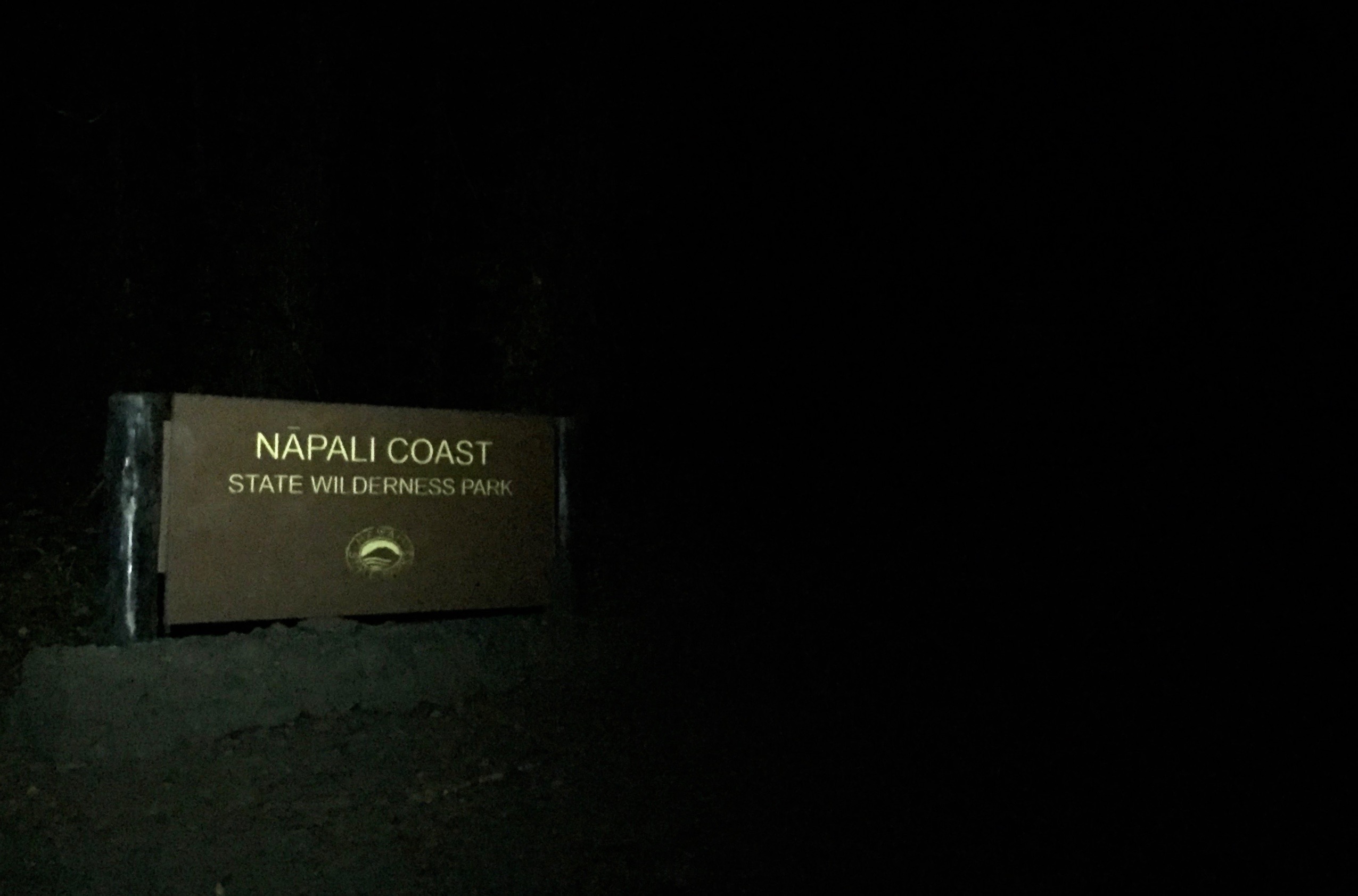 Na Pali Coast sign at the trailhead. We started with our headlamps before sunrise around 5am to give ourselves enough time to complete the trail out and back within the day.
I couldn't find many (or any) references online about completing the trail in one day (it is highly recommended to spend at least a night at Kalalau beach) so I was a bit nervous about how difficult / unpredictable and exhausting it might be in one go. The only story I heard about completing the trail in a day was from a local whose friend started before sunrise and made it back around sunset, and seemed to only have horror stories about how exhausting it was (which made me quite nervous). It wasn't as strenuous as I expected going in, but unless you are training for some long distance running or long distance events I would plan to take your time and stay overnight. Less exhausting, less rushed, more enjoyable.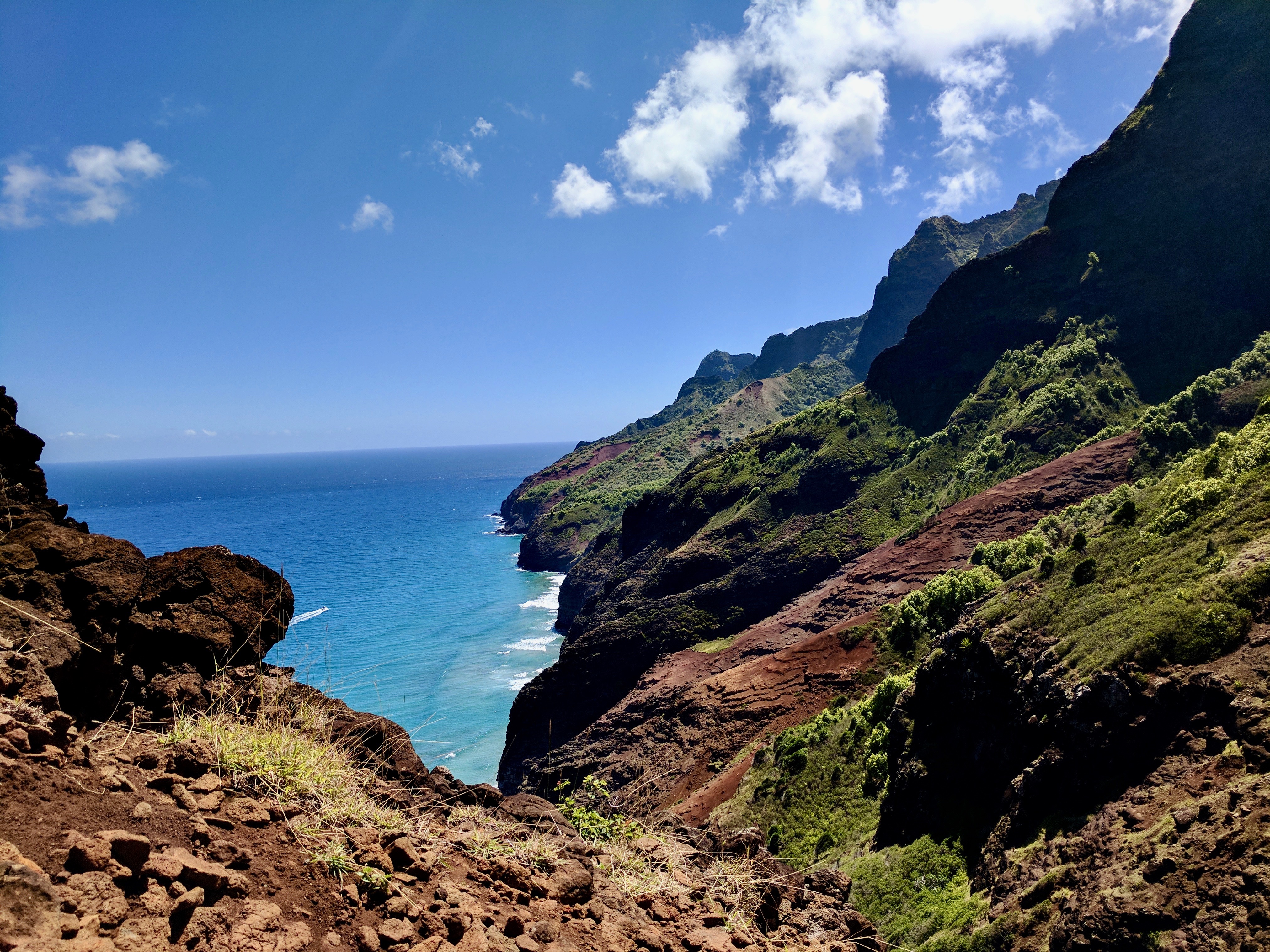 You will want time to enjoy these spectacular views of untouched nature along oceanside cliffs, through rainforests and across valleys.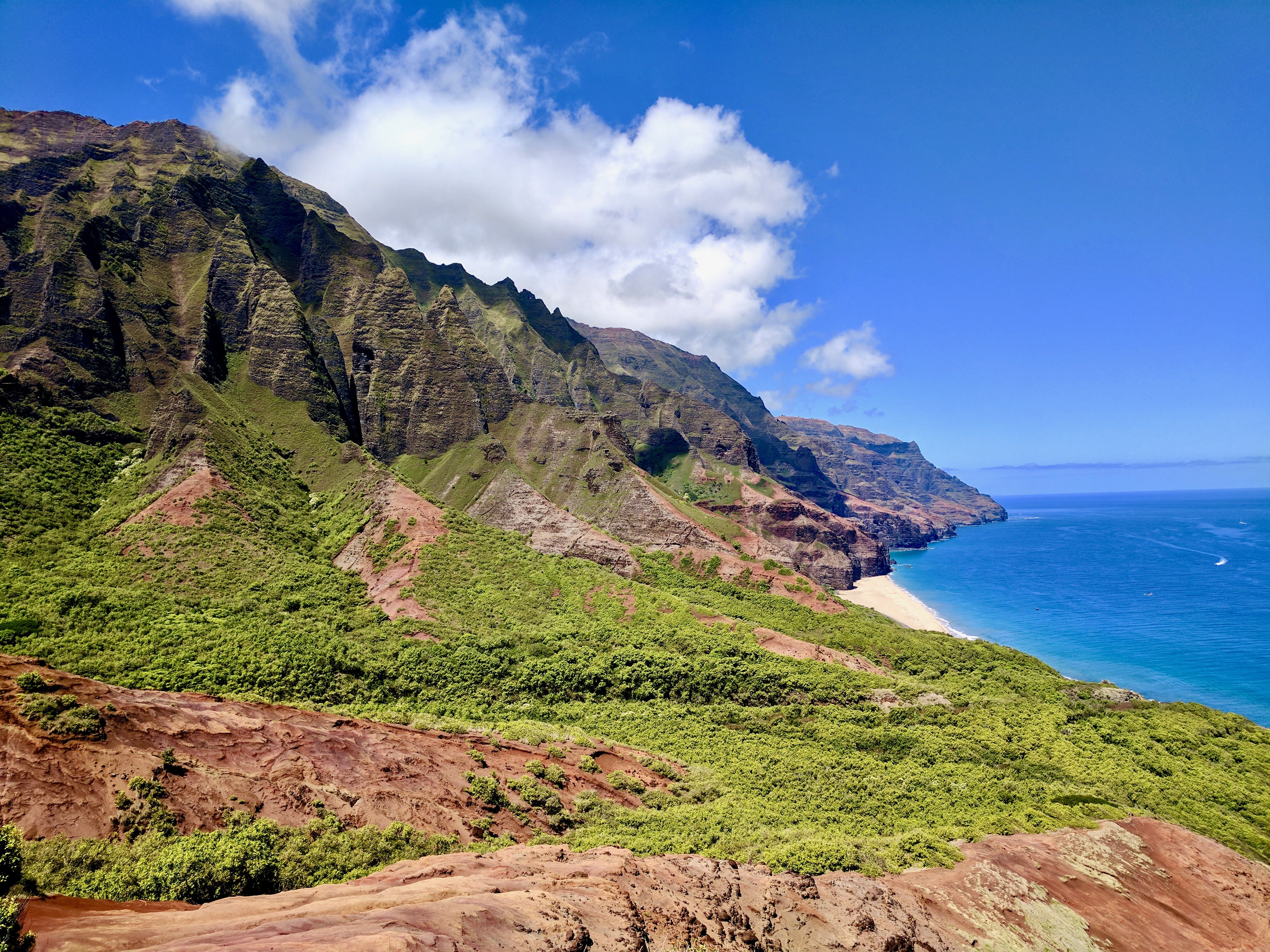 First glimpse of the pristine Kalalau beach up ahead. A very rewarding view after hours of hiking under the hot sun.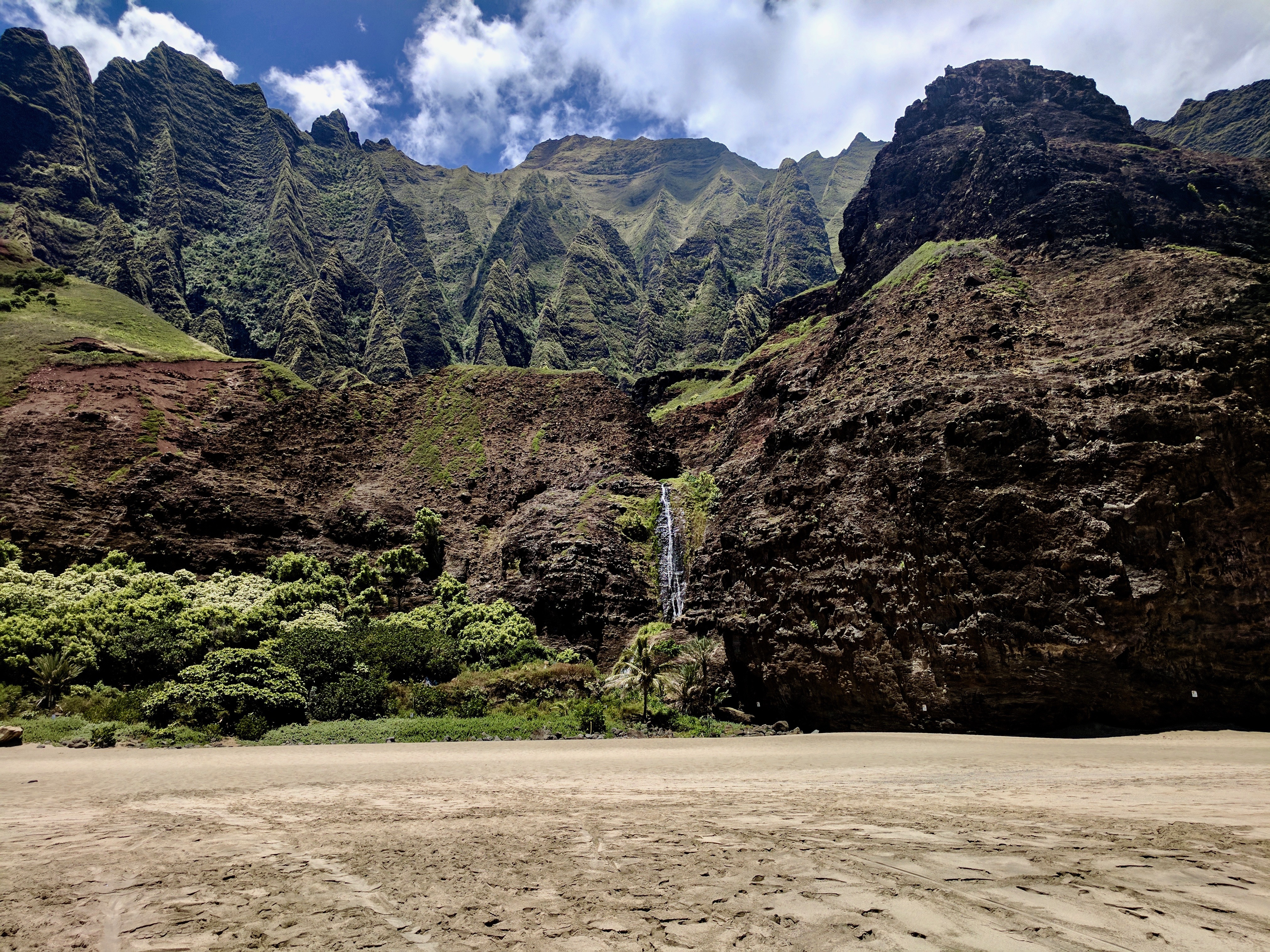 Arrived at the breathtaking Kalalau beach around midday, with some time to relax. Note: be REALLY careful about hopping onto that beach barefoot in the middle of the day. The sand gets so hot from the sun it can really burn your feet. I had a bit of a scary moment getting too excited to hop into the ocean. It is a really big beach so if you leave your shoes at one end, it will really hurt getting back to them.
You can see from the map here there are several stream crossings along the way. Make sure you bring your hydration pack and some iodine pills to treat the water to drink. It can get very hot and you can easily get dehydrated while on the trail.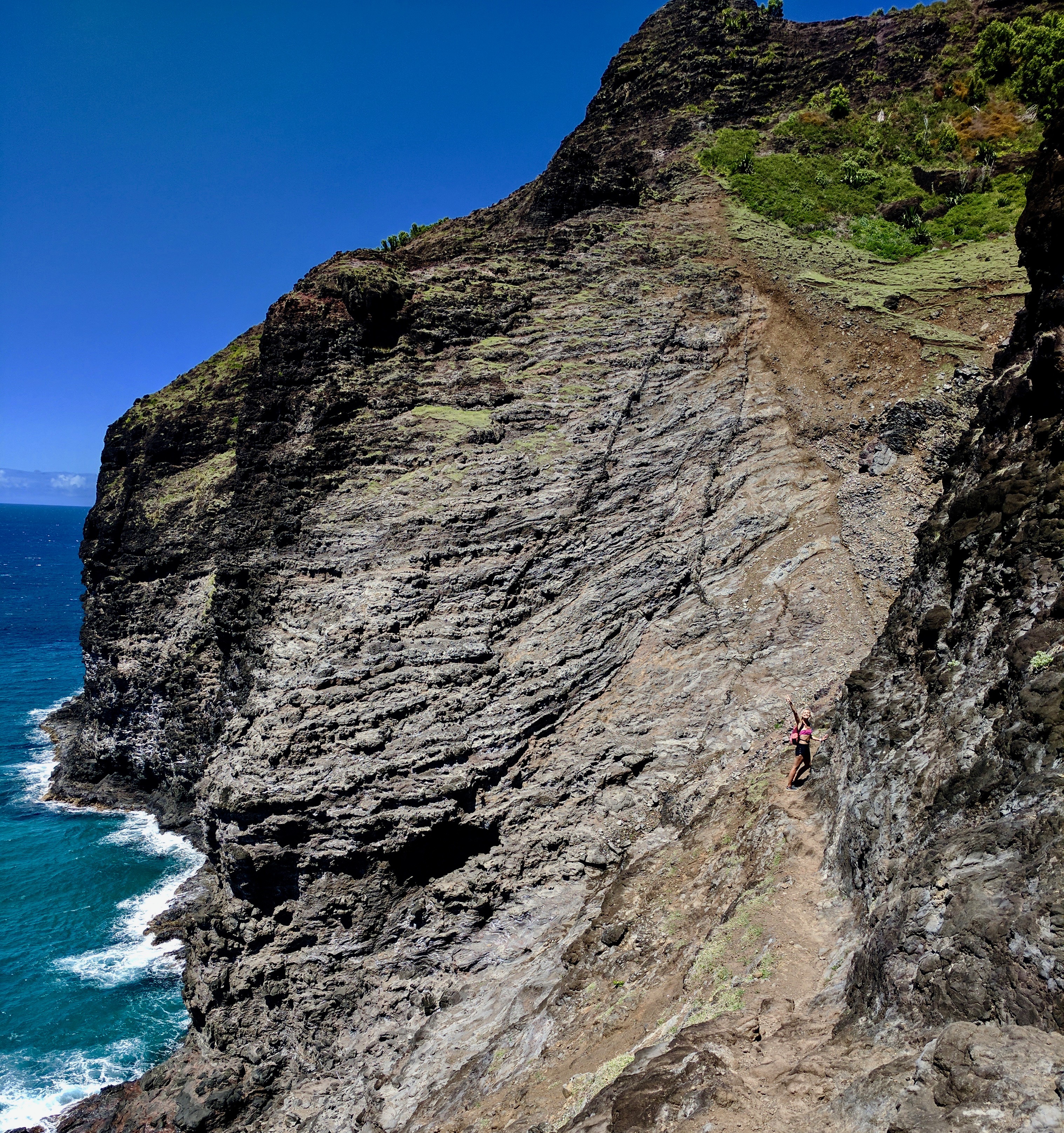 Me, making my way back along the cliffs of the Na Pali coast. There are a lot of very exposed portions of the trail without any options to escape the heat or find shade.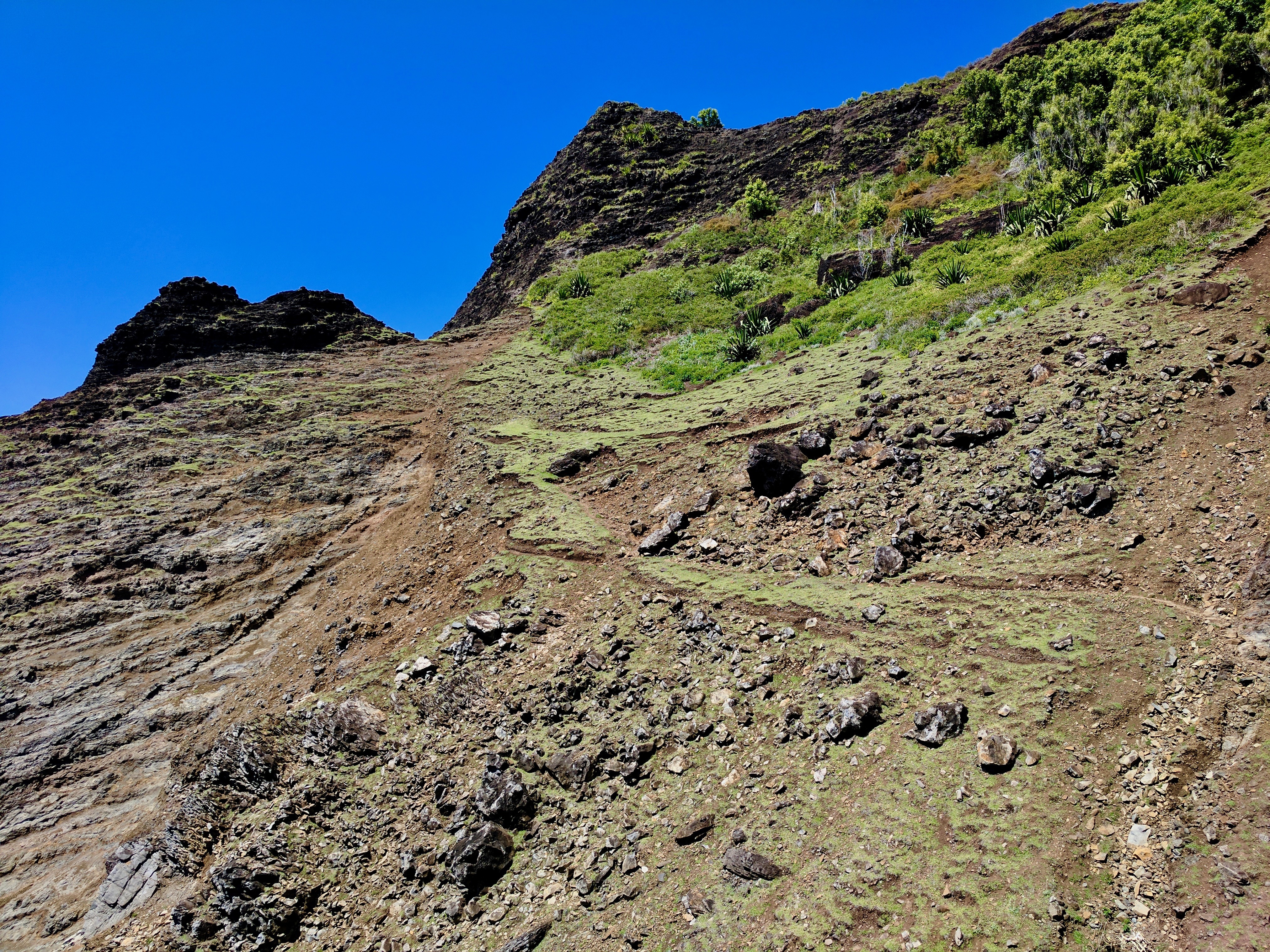 The trail is quite difficult to point out in some of the photos, but it was generally well maintained and very easy to follow. I accidentally got off trail in the bushes while running at one point where the trail was not as clear, but was easily able to back track and find the correct way. The mountains aren't huge in Kauai but don't underestimate the ascents up and over the ridges and descents back down into the valleys along the trail.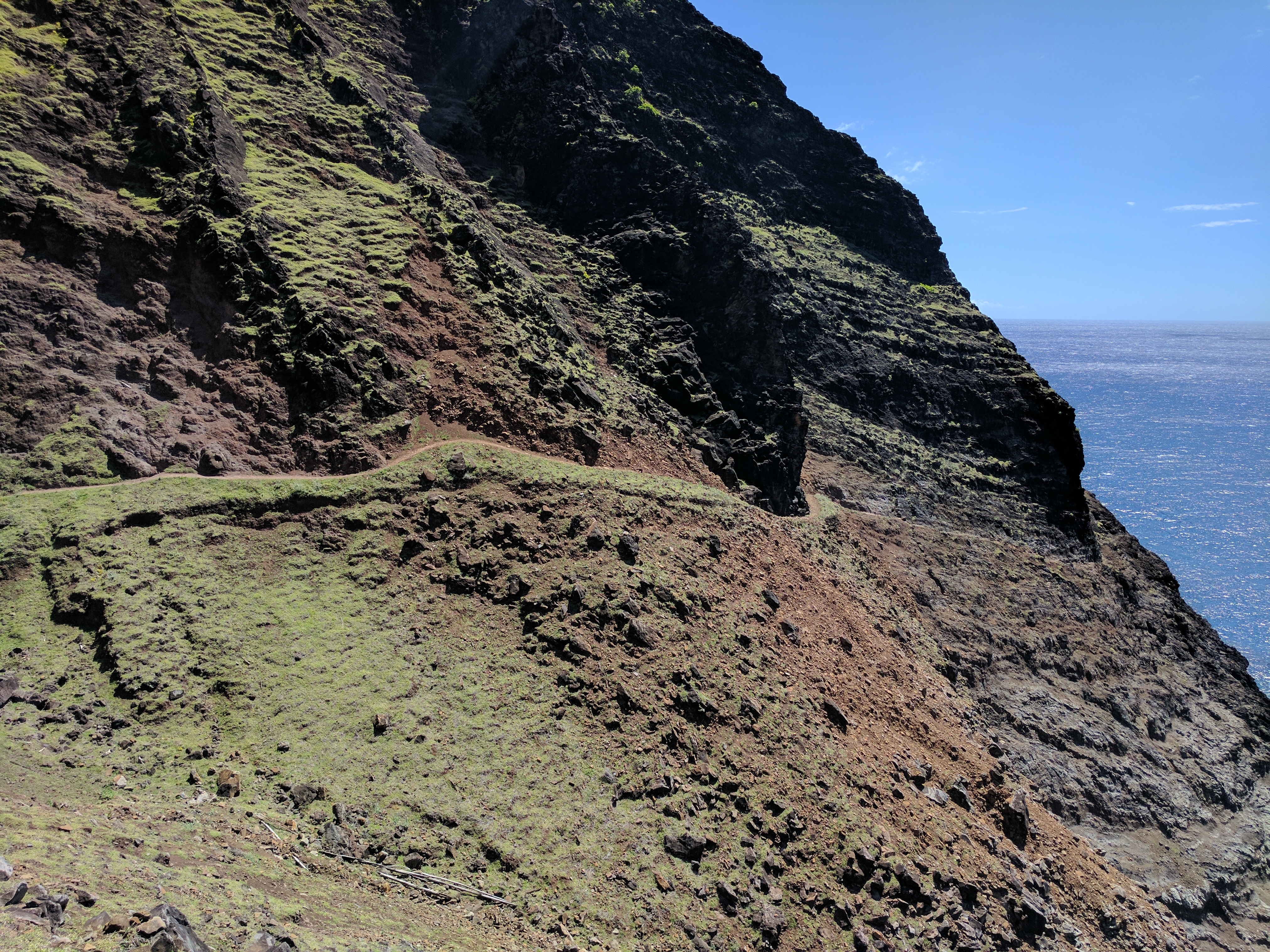 Another photo of the narrow trail along the oceanside cliffs of the Na Pali coast.
You need to be careful when there are wet or rainy conditions as the trail can get very muddy and slippery. I luckily had beautiful sunshine and perfect conditions so I can't comment on how difficult the trail gets in the mud. Another thing to be mindful of is flash floods that occur at the streams which can get really dangerous to cross. There are many different microclimates accross Kauai and interestingly the rainforest near Mt. Wai'ale'ale is known as one of the wettest places on earth so check the forecast!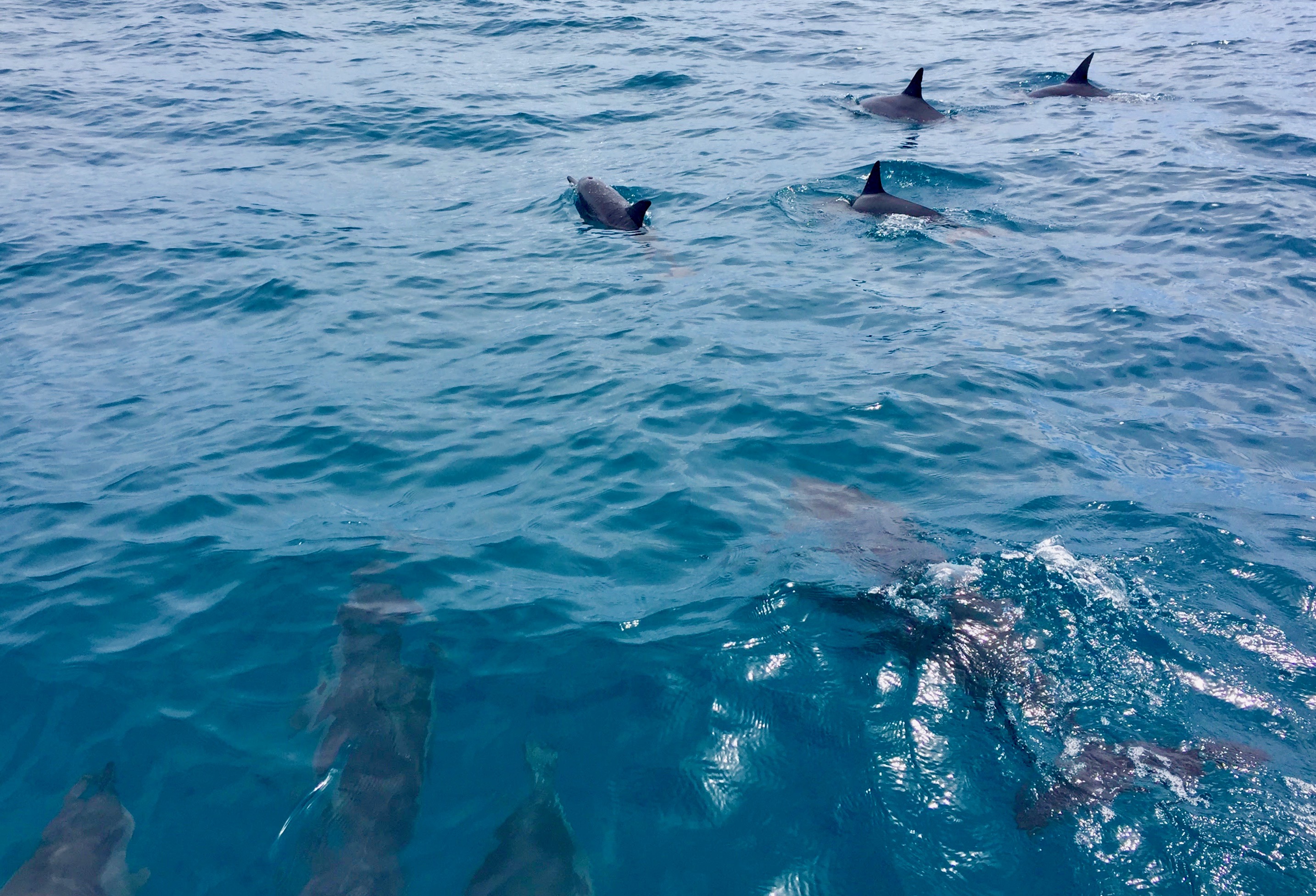 The water is so clear you will likely be able to see pods of dolphins swimming along the coast from the Kalalau trail.
If you want to do something a bit shorter and less strenuous you can hike the first 2 miles of the trail to Hanakapi'ai beach and then continue another 2 miles to Hanakapi'ai falls without needing a permit, although I think it doesn't quite compare and the full trail along the Na Pali coast is really worth the effort.
If you are looking for great hikes, this one in my opinion should be on the top of your list of hikes to do in North America, just make sure to plan in advance! If you're wondering what else to do in Kauai spend a day wandering aroud Waimea Canayon State Park, go check out Wailua Falls (or any of the many falls you can hike to in Kauai!), do some kayaking or snorkeling and be sure to eat some of the amazing poke and fish!